As an annual event for domestic and overseas maker communities, Maker Faire Shenzhen has emerged as a key event connecting Shenzhen's local hardware ecosystem with the global tech community since its launch in 2012. The event has attracted visitors from nearly 100 countries and regions, which is a cross-border festival with high participation from the international innovation community. It is also a platform for communication and collaboration between industries and makers.
MFSZ has focused on the cross-border integration of science and technology innovation with traditional industries. While showcasing the collaboration of maker communities, exploring the unlimited potential for innovation, it has also demonstrated the achievements of the maker community in practicing technology cross-border and applying innovation in vertical scenarios.
If we consider the events from 2012 to 2017 as our efforts to connect and promote the maker community, after 2017, we have started to focus more on how to integrate more industries with us and build a communication platform between the community and industries.
In 2017, we began to focus on professional makers, highlighting the efforts and attempts made by the professional maker community to promote industrial innovation through the Maker Pro section.
In 2018, MFSZ started to introduce professional audiences and invited enterprise teams from various industries to the event, attempting to establish a platform for dialogue between innovation and traditional industries.
In 2019, the event made an effort to attract professional audiences from various industries, bringing teams from 50 well-known enterprises and facilitating communication and connection with makers on site, resulting in nearly 1,000 potential cooperation opportunities.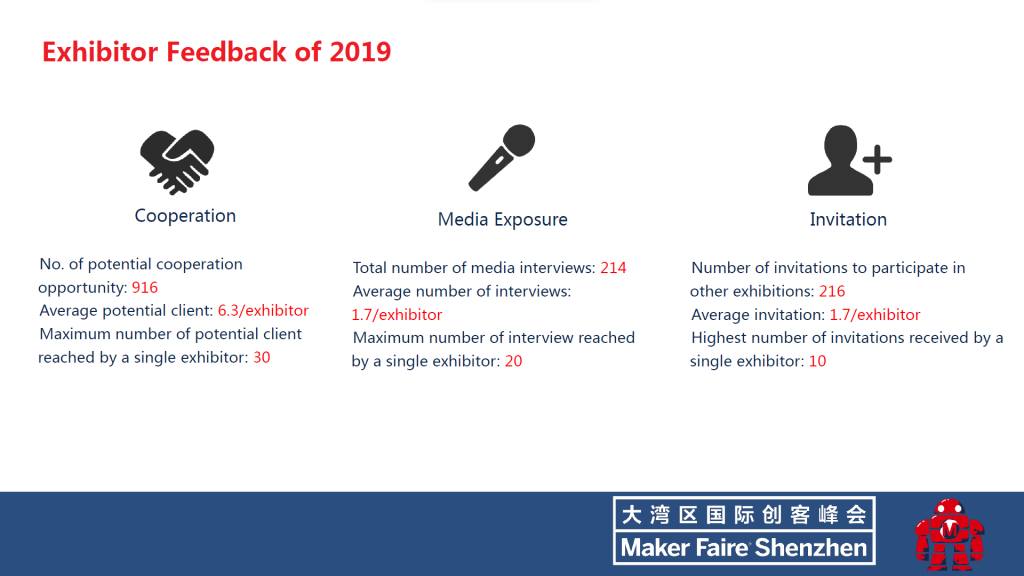 If you are a decision maker at a company/ organization and want to promote your brand at this international platform, as well as gain the opportunity for deep involvement, communication, and even collaboration with the global maker community, we sincerely invite you to become our sponsor. This year, we offer limited sponsorship packages at three levels: Enabler Sponsor, Ecosystem Sponsor, and Community Sponsor. As a sponsor, you can effectively connect with your target audience, gaining maximum exposure and in-depth participation during the event.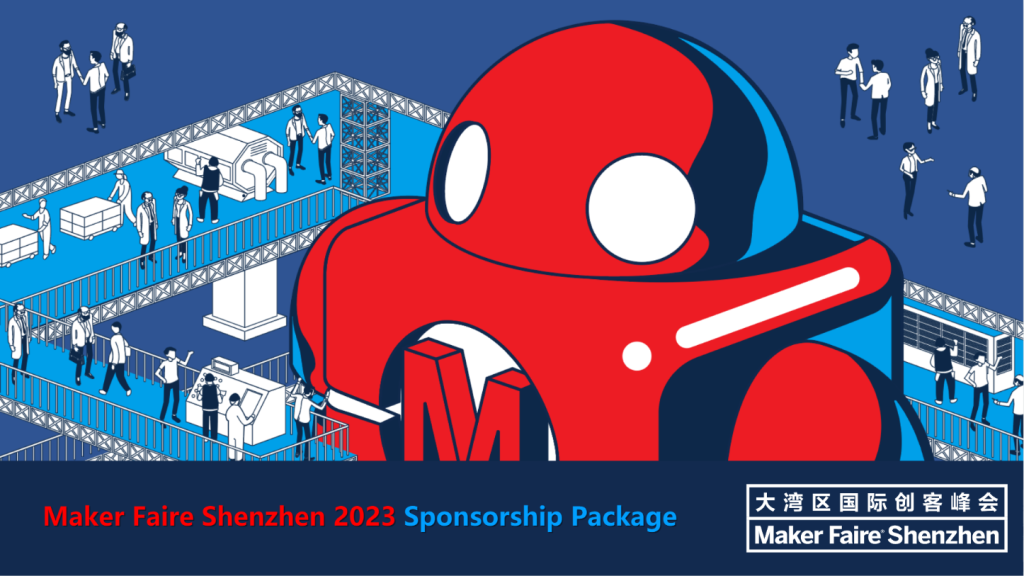 Enabler Sponsor: who supports makers with platform based services (software and hardware technology, resource sharing, and incubation acceleration);
Ecosystem Sponsor: who has a strong foundation in verticle industry and looks to collaborates with makers on new product development, and new technology application;
Community Partner Sponsor: who wants to support the community via assisting in event organization;
Highlight Element Sponsor: who sponsors a specific highlight element of MFSZ 23 such as customization workshop, maker party or customization photo spot.

Receiving Comprehensive Sponsorship Returns in the Most In-Depth Maker Event
Honorary Return
Recognized as the sponsor of the Maker Faire Shenzhen 2023, becoming a focal brand in the global maker community.
Promotional Return
Gain online and offline exposure across all channels through comprehensive promotional and marketing efforts integrated by the event organizer.
Display of the company logo and name on the booth backdrop (printed by the organizer);
Location individually labelled on the event site map;
Logo exposure, online and offline promotion, global brand exposure.
On-Site Return
Multiple booth sizes are available, occupying a prime location on the exhibition floor (including customized construction);
Right to organized customized workshop, experience products from the user's perspective;
Distribution of promotional materials in the exhibition area
Forum Return
Forum speaking opportunities;
Free tickets to forums and parties;
Distribution of promotional materials and products for forum attendees.
All sponsorship benefits can be customized and tailored to meet the specific needs of yours. Please contact us via email sponsor@chaihuo.org to obtain 1:1 sponsorship consultation with us.
Maker Faire Shenzhen 2023 will provide a precise and vertical flow of participants to give your brand the opportunity to get closer with potential customers and partners. With our strong media resources and extensive promotion channels, we offer plenty of brand promotion and exposure opportunities for our sponsors. For more details on sponsorship packages, please click here to download the sponsorship package.

Maker Faire Shenzhen 2023
November 11-12, 2023 (Weekend)
WHERE ARE THE MAKERS?
Over the past 12 years, the development trajectory of Maker Faire Shenzhen can be seen as a microcosm of the development of maker culture in China.
2012: "Gathering Small Wisdom, Journeying through the Great Future" – This was the first Mini Maker Faire in China, with less than 1000 attendees, and was more like a gathering within a small circle. But we saw the infinite possibilities emerging from the maker community.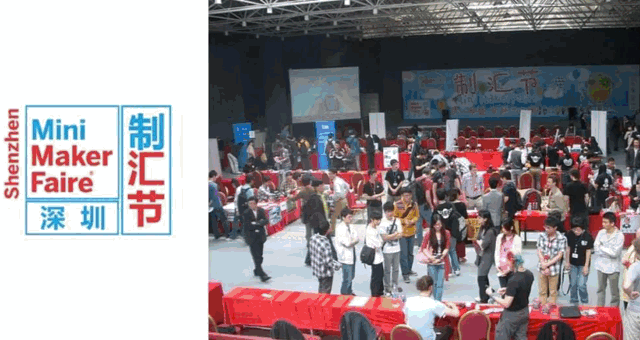 2013: The slogan was absent, and the maker community was still small. In the OCT Creative Park, there were cross-disciplinary exchanges among different creative communities, silently laying the foundation for cultural output.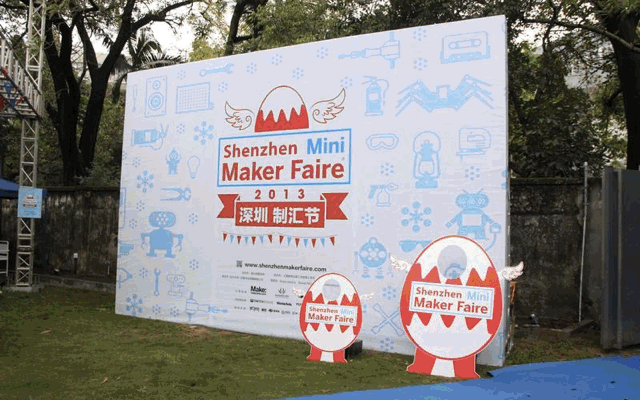 2014: "Innovate with China" – the event was upgraded to the Featured level for the first time, with a significant increase in scale compared to previous years, and the beginning of professional independent forums. This year, makers began to enter the public's view.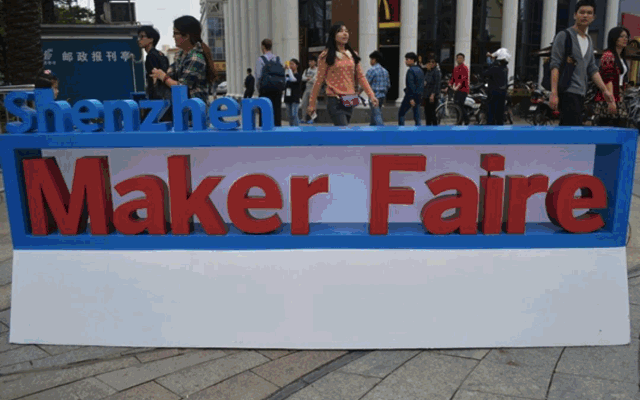 2015: "Everyone is a Maker, what are you waiting for?" – This year's Shenzhen International Maker Week became one of the largest Maker Faires in the world. This year, the concept of "maker" was elevated to a national level, and the trend of "mass innovation, mass entrepreneurship" swept across the country.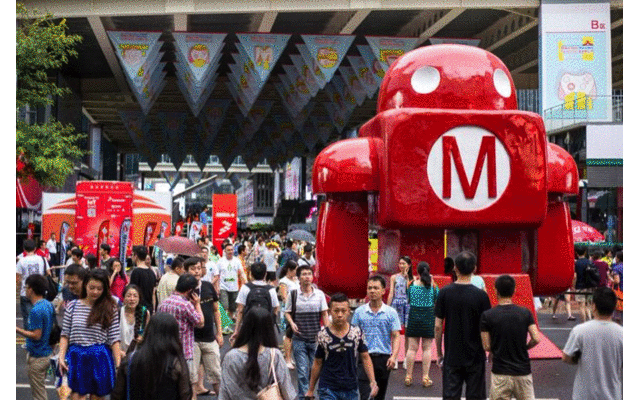 2016: "My World, My Creation" – As the sub-venue of the National Innovation and Entrepreneurship Week, the event was held for the first time in the commercial center area, experiencing unpredictable weather from typhoons to scorching heat. Many makers succeeded in your entrepreneurial endeavors this year, but it seemed like there were even more failures. The hype around entrepreneurship shifted towards rationality.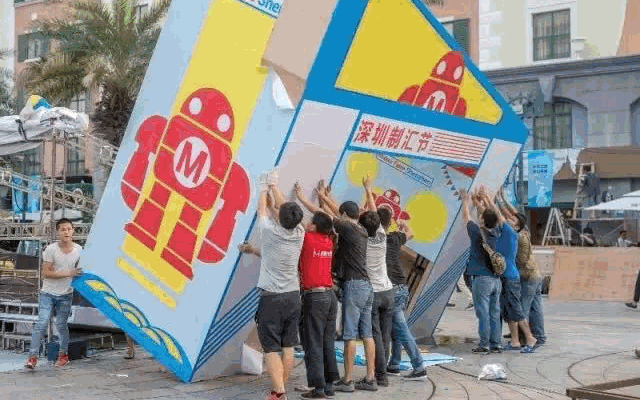 2017: "Makers, Go Pro" – The event took place at the university campus for the first time, focusing on Maker Pros and providing a platform for diverse innovators and makers to showcase themselves, presenting more possibilities for the growth path of makers to the entire community.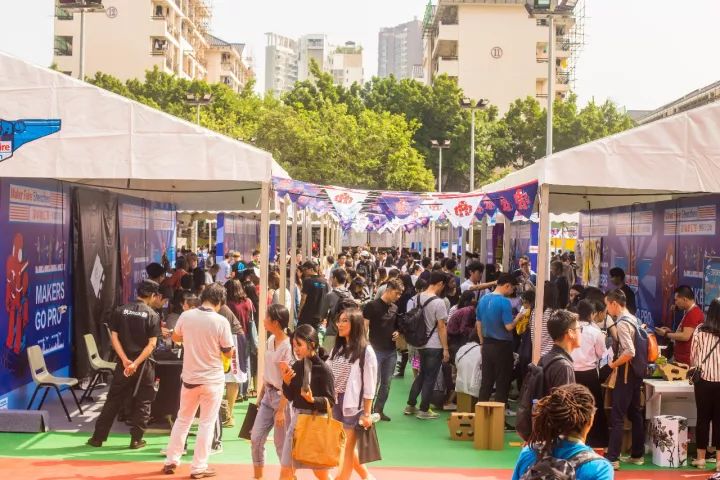 2018: "Co-making in the City" – The main venue of Shenzhen International Maker Week, where individuals and groups with shared visions and values gathered to showcase stories, projects, and explorations of collaboration among different communities and people.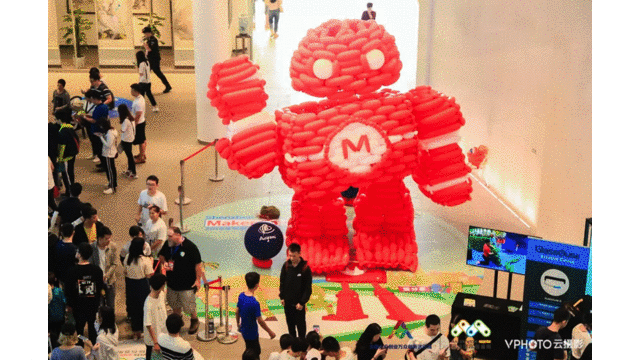 2019: " To the Heart of Community, To the Cluster of Industry" – The event was upgraded to the Maker Faire Shenzhen, attempting to attract professional audiences and focusing on pragmatic aspects such as solving the needs of industrial upgrading and co-developin. It aims to build a platform for innovation and industry dialogue and collaboration.