From November 11 to 12, 2023, Maker Faire Shenzhen 2023 (hereinafter referred to as MFSZ23), hosted by Chaihuo Maker Space, with strategic partnerships from Seeed Technology Co., Ltd. and Make Community, and co-organized by Vanke Cloud City, made a successful conclusion at the Vanke Cloud City Design Commune in Nanshan, Shenzhen. With the theme of "Where Are the Makers?", it comprises the Maker Forum, Maker Exhibition, Workshops, and Satellite Events. The summit brought together over 120 exhibitors from around the world and attracted professional visitors from nearly thirty countries and over twenty provinces in China.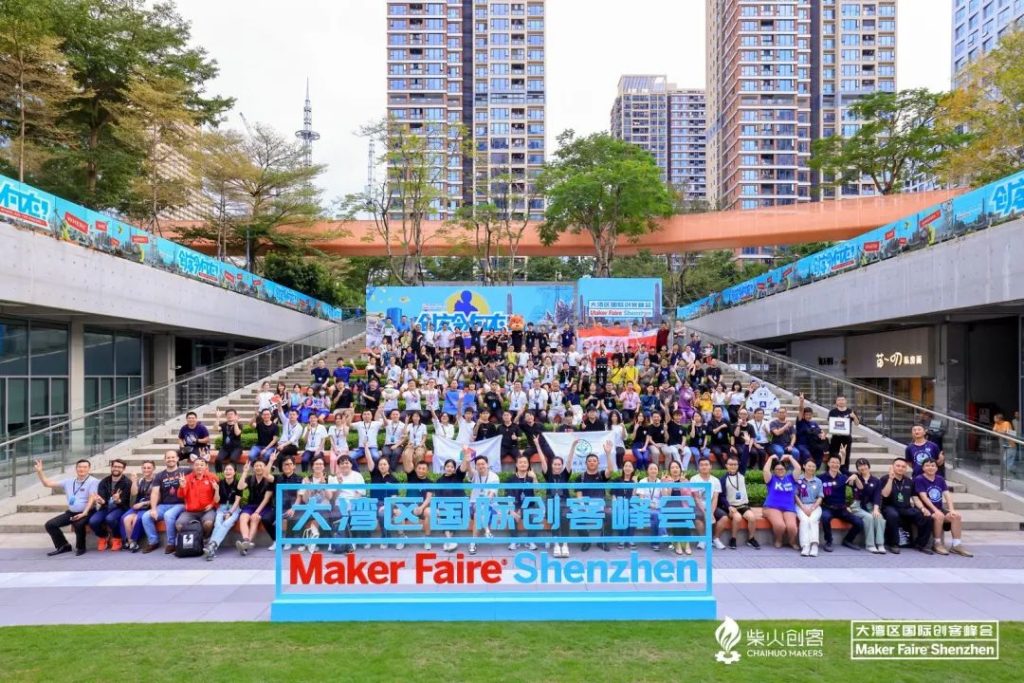 Maker Forum
Following the theme "Where Are the Makers?" the 2-day Maker Forum delves into four sub-themes: "Through the Cycles," "Tech for Good," "Cyber Famrs," and "Things w/ AI." It invites over 30 guests from various industries to explore trends in the maker movement and how makers can delve into industries to drive industrial innovation.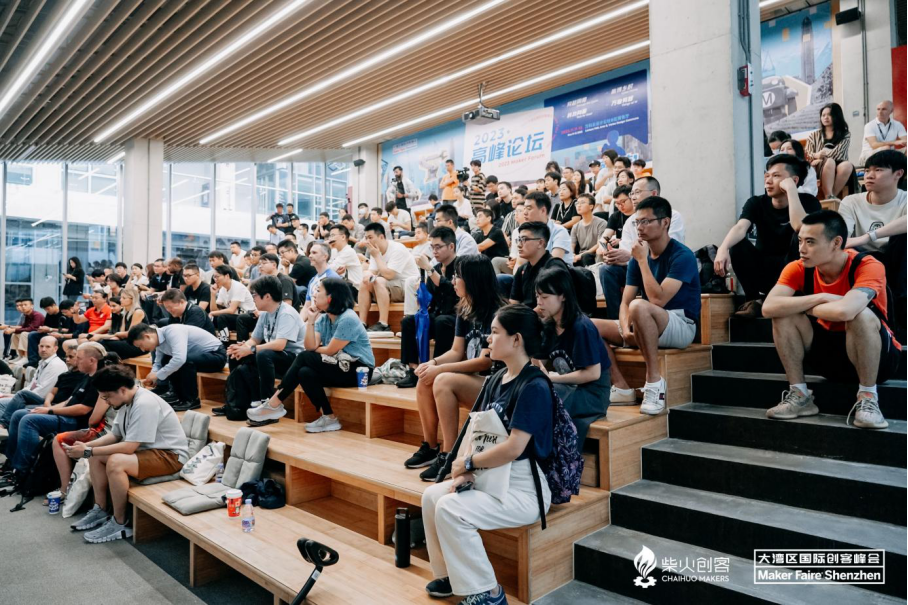 In the "Through the Cycles" session, the forum gathered seven guest speakers, including Pan Hao, Founder of Chaihuo Makerspace and Seeed Studio; Eben Upton, Co-founder of the Raspberry Pi Foundation and CEO of Raspberry Pi Ltd; Duleesha Kulasooriya, Asia Pacific Innovation Leader and Managing Director at Deloitte Center for the Edge; David James Groom, Community Editor at Make Community; Henri Peng, Greater China Region Strategic Representative and Senior Consultant of Kickstarter P.B.C; Ye Tao, CEO of Bambu Lab; and Chirag Sharma, Senior Analyst at Druk Holding & Investments (DHI). As enablers driving the development of the maker movement, these guests explored and discussed themes such as innovation, collaboration, openness, and, from perspectives like open-source hardware, open-source communities, innovation consulting, digital manufacturing tools, innovation marketization, and national digitization, analyzed the development trends of the maker movement. They shared thoughts on the future direction of makers and the possibilities of realizing innovative and creative value.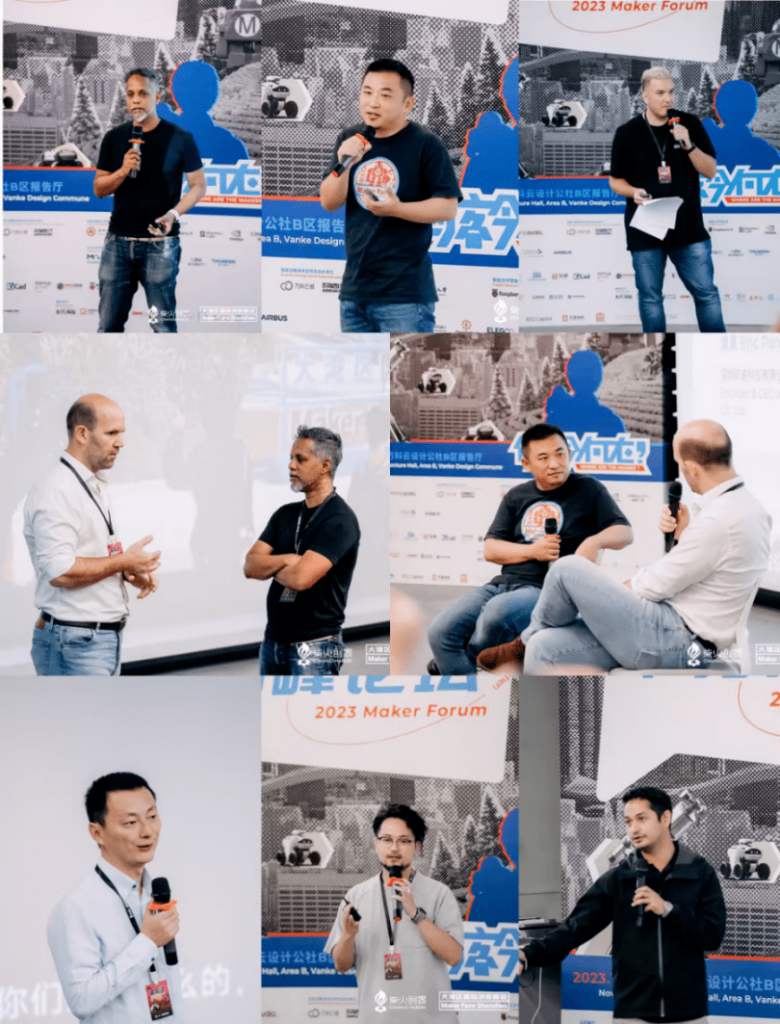 In the "Tech for Good" session, speakers including Alex Qian, Director of Vanke Urban Research of China Vanke Co., Ltd.; Cesar Jung-Harada, Associate Professor at Singapore Institute of Technology; Felix Leung, Climate Change Fellow at The Nature Conservancy Hong Kong; Jing Ouyang, Chairman of Deep Blue Date Digital Agriculture Technology; Andrea Magelli, Co-founder of the Future Food Institute; and Jessica Zhou, Head of Innovation Startup Department at ABeam Consulting China, shared their efforts and stories of actively participating in industrial innovation and promoting sustainable development across various industries. Starting from different industries, they collectively discussed how the innovative power represented by makers could become a powerful driving force for the sustainable development of countless segmented industries under the backdrop of global industrial digitization. Additionally, Kate Armstrong, Strategic Deirector at Fab City Foundation, Executive Board, led a panel discussion on the theme of smart cities. Guests including Jinger Zeng, Contest Manager at Hackster .io, Chirag Sharma, Senior Analyst at DHI, and Lit Liao, Founder of Litchee Lab, explored how technology empowers the construction of smart cities from the perspectives of non-profit organizations, community platforms, education, and the technology ecosystem. Through these guest sharing, the on-site audience gained a clearer and more intuitive understanding of how technological innovation deeply integrates with specific scenarios across various industries, driving innovative upgrades in the industry and sustainable development in the field.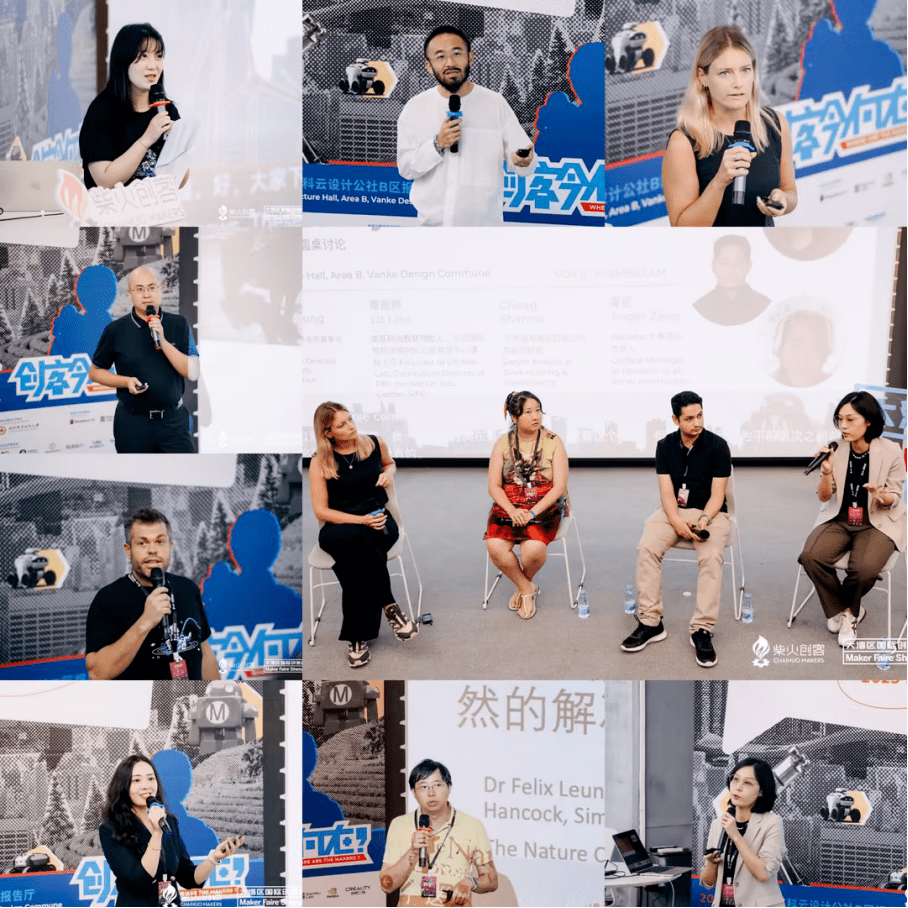 This year, we have introduced a new session focused on "Cyber Farms" in our forum, inviting representatives from several institutions and enterprises deeply involved in digital agriculture, including the Shenzhen Digital Agriculture Association, Seeed Technology Co., Ltd., Shenzhen Institute of Modern Agricultural Equipment, Shenzhen Wugu Network Technology Co., Ltd., Kinghoo AgroTech, Shenzhen Deltron Intelligent Innovation Technology Co., Ltd., China Pacific Insurance Shenzhen Branch, Beijing MLog Meteorological Technology Co., Ltd., Shenzhen Deep Blue Data Digital Agriculture Technology Co., Ltd., Chengdu Etfield Agri-Eco Tech Co., Ltd. These representatives collectively presented their insights into the current status, applications, and future prospects of agricultural sensors, smart equipment, data model algorithms, meteorological index insurance, and segmented crop industry services in the context of agriculture and rural areas.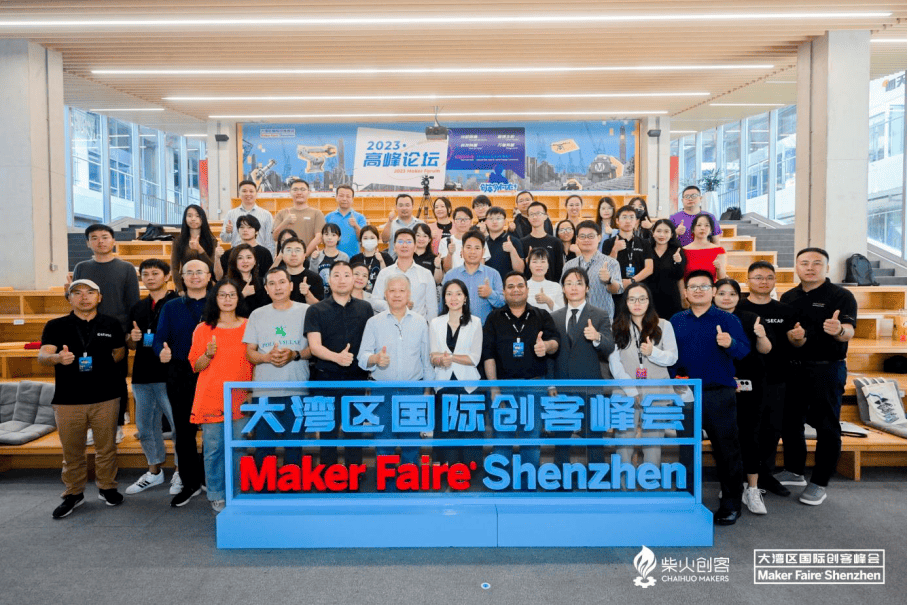 In addition, this year's forum also partnered with the IECG SynergyHub to incorporate the "Things w/ AI", focusing on AI+ hardware. Eric Xu, the founder and CEO of the IEGC, along with Kery Peng, a strategic consultant at Amazon Web Services Startup Team, and Richard Zhang, the CSO of Seeed Technology, delivered exciting speeches on open innovation ecosystems, generative AI, ChatGPT, and related topics. This segment also featured 12 AI+ hardware teams participating in project roadshows, including representatives from potential financing enterprises, local research institutions, industry experts, and well-known investment organizations. Through project roadshows and dialogues with attending investment institutions, the event aimed to delve into the integration and application of artificial intelligence and hardware, advancing the construction of Shenzhen's urban industry clusters.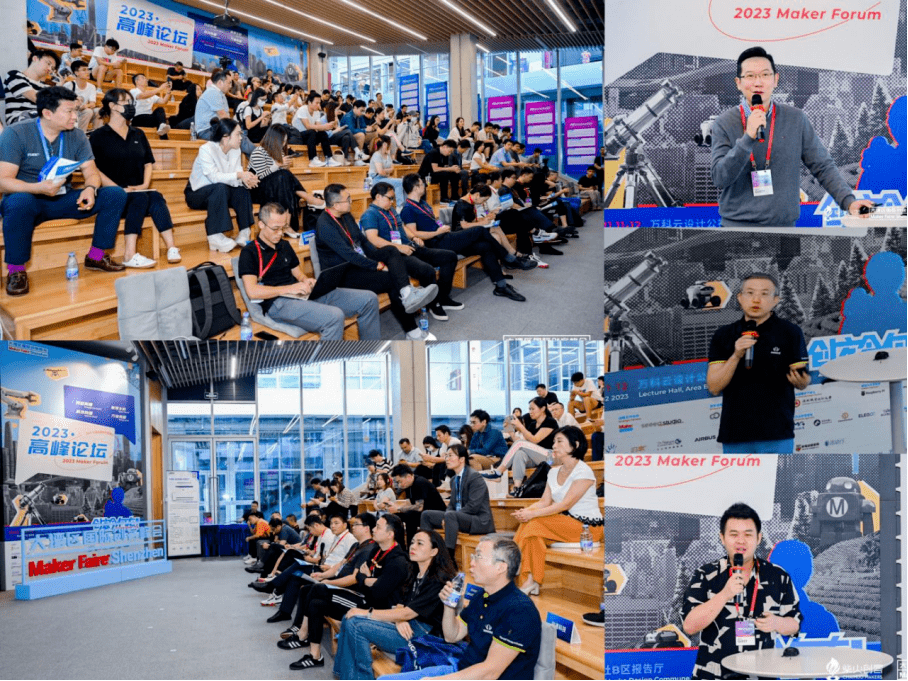 Maker Exhibit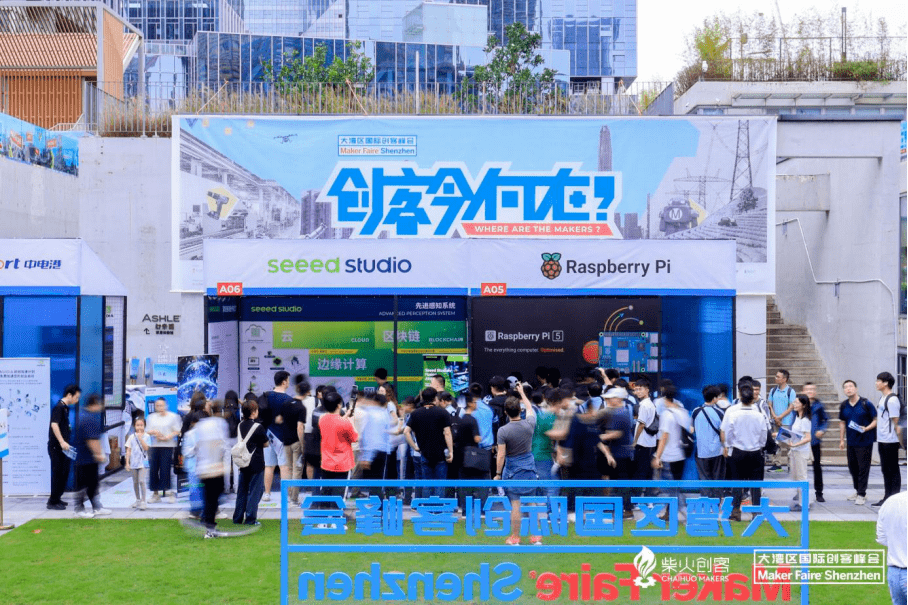 The Maker Exhibit, as a highlight segment of MFSZ23, has attracted a total of 120+ exhibitors from nearly 30 countries and regions worldwide. They come from various countries such as the United States, the United Kingdom, Sweden, Japan, Russia, South Korea, Nepal, Spain, India, Poland, Indonesia, Singapore, and cities and regions in China, including Beijing, Shanghai, Chengdu, Inner Mongolia, Shenzhen, Guangzhou, Dongguan, Hong Kong, and Taiwan.
One of the highlights of this year's Maker Exhibit is the diverse application scenarios and wide-ranging industries involved. Over the two-day exhibition, the showcased projects, solutions, and products cover more than 30 industries, primarily focusing on artificial intelligence (AI), smart manufacturing, technology education, entertainment, smart cities, and smart agriculture. Many well-known industry-leading enterprises participated in this exhibit, including NVIDIA, Raspberry Pi, Seeed Studio, Bambu Lab, and so on. Additionally, more than 10 universities and institutions, such as Shenzhen Polytechnic, Southern University of Science and Technology, Southwest Jiaotong University, Shenzhen University of Technology, Guangzhou Academy of Fine Arts, Sichuan Academy of Fine Arts, Tsinghua University Shenzhen International Graduate School, and Harbin Institute of Technology Shenzhen International Design School, have demonstrated the practical applications of innovations across industries.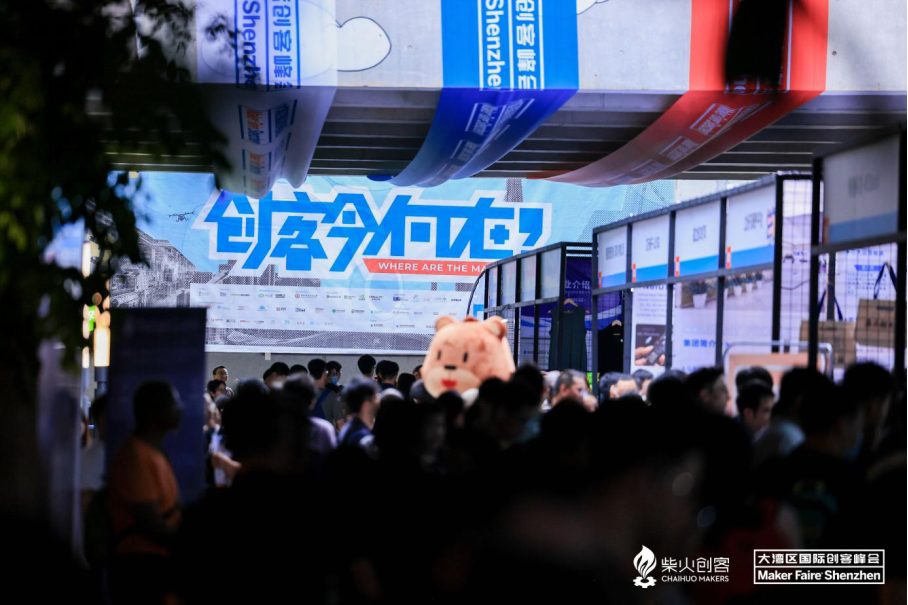 Workshop
The MFSZ23 workshops not only provide attendees with immersive hands-on experiences but also offer a rapid exploration opportunity to learn new skills. In collaboration with industry innovation partners and exhibitors, this year we have a total of 22 workshops covering nearly 40 hands-on experiences over the two days. In addition to interactive workshops on wearable devices, 3D printing, robotics, and gravity-powered car, this year, we have introduced the Industry Innovation Workshops, focusing on the specific digital transformation needs of particular industries. These workshops offer highly customized content for rapid skills training, aiming to drive the digitalization upgrade and transformation of industries.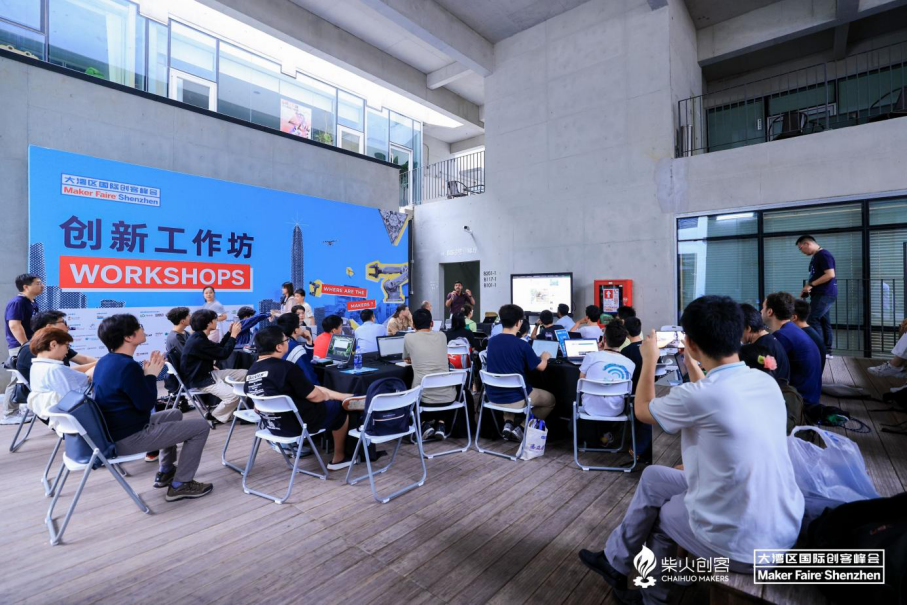 Satellite Events
To enrich the experience for the attendees, MFSZ23 has added a special satellite events section. We have collaborated with 16 partners, including Raspberry Pi, NVIDIA, Seeed Studio, Deloitte, KiCad, and Vanke Urban Research Institute, to create a satellite event matrix consisting of 10 series of technological innovation activities. The activities include seminars, visits to hardware innovation factories, technical workshops, co-creation surveys, and more, covering popular cutting-edge topics such as open-source hardware, digital manufacturing, edge computing, robotics, digital transformation, digital agriculture, electronic design, and others. This showcases Shenzhen's unique charm as the capital of innovation and entrepreneurship in China. Through this local technology event matrix, it radiates to the maker community from home and abroad, connects global makers with the innovation ecosystem of the Greater Bay Area, and showcases the business card of innovative Shenzhen.
The success conclusion of this year's MFSZ further promotes the integration of technological innovation and industrial development, establishing a bridge for communication between technological innovation and industry applications to promote sustainable development and support rural revitalization and industrial digital transformation. We believe that more innovations will emerge in the future, bringing development opportunities to society.
If you happened to miss the excitement of this year, feel free to click here to access the photos of the event.