Since its launch in 2012, Maker Faire Shenzhen, organized by Chaihuo Maker Space, has gone through 11 years. As a large-scale gathering for communication and collaboration in the maker community, MFSZ serves as a nexus for technology and traditional industries.
Maker Faire Shenzhen 2023, with the theme "Where Are The Makers?", consists of various sub-events: Maker Forum, Maker Exhibit, Workshops, and Satellite Events. Join us on November 11-12 at the Vanke Design Commune in Nanshan, Shenzhen. We can't wait to welcome all professional visitors to this year's Maker Faire Shenzhen!
To ensure a better experience for professional visitors, we are thrilled to announce that the MFSZ23 Professional Visitor Pre-registration is now open! We invite you to sign up by scanning the QR code or clicking the button below.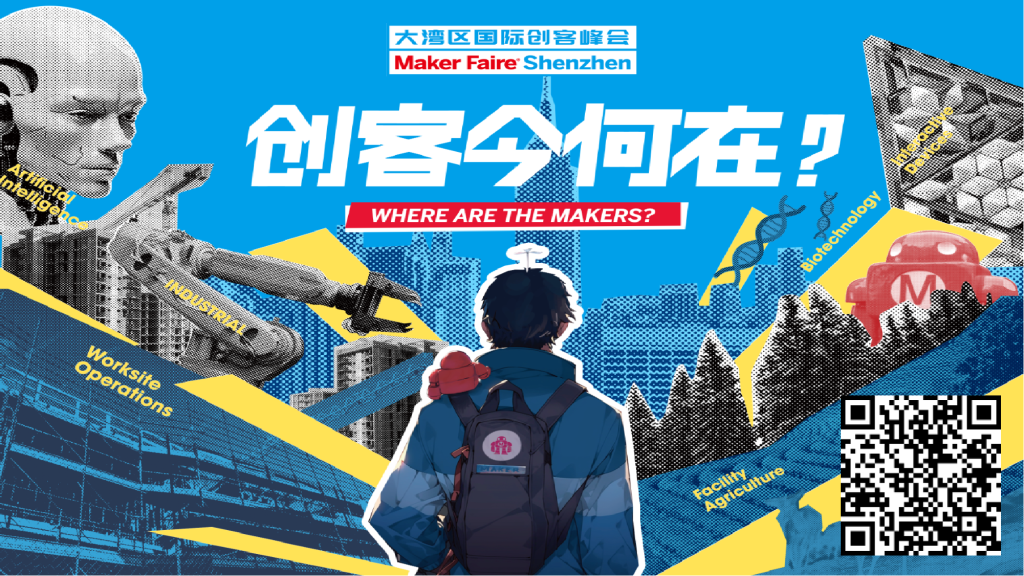 Now, let's take a look at some of the highlights of this year's MFSZ!

Maker Forum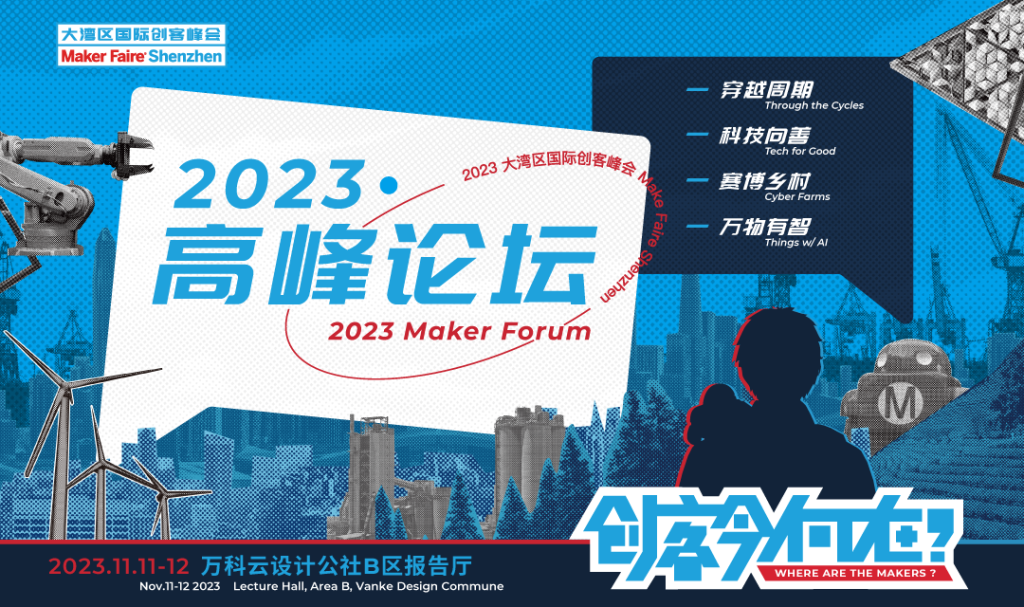 Under the theme "Where Are The Makers," this year's forum at Maker Faire Shenzhen aims to explore the diverse development trends of the maker movement, sharing the future direction of makers and the potential for commercial realization. Furthermore, we also seek to highlight the innovators who continue to drive advancements in various industries. We aim to explore specific scenarios where the innovations have been implemented, examine how the makers navigate the challenges with emerging technologies, and showcase their efforts and stories in promoting digital transformation.
The Maker Forum will be a 2 days event on November 11th-12th with 4 Sessions: Through the Cycles, Tech for Good, Cyber Farms, Things w/ AI. The forum has invited nearly 30 industry representatives to share their stories and insights. We will provide detailed information about the forum schedule soon. Stay tuned!
Maker Exhibit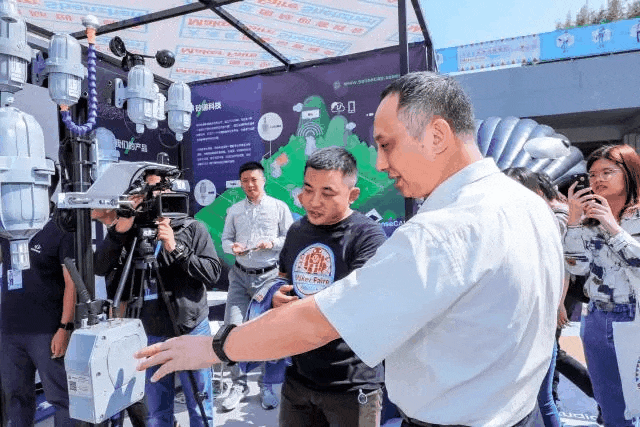 The Maker Exhibit, featuring spotlight projects and performances, is a standout section of this year's event. It has garnered participation from individuals, teams, and enterprises representing nearly 30 countries and regions across the globe, including the United States, United Kingdom, Sweden, Japan, Russia, South Korea, Nepal, Spain, India, Poland, Indonesia, Singapore, as well as various cities in China, such as Beijing, Shanghai, Shenzhen, Guangzhou, Dongguan, Hong Kong, and Taiwan.
The exhibited projects/solutions/products at this event spans across more than 30 industries, with a primary focus on areas such as Artificial Intelligence (AI), Smart Manufacturing, Maker Education, Entertainment, Smart Cities, and Smart Agriculture. Moreover, numerous well-known enterprises and organizations are participating, including NVIDIA, Raspberry-pi, Bambu Lab, Creality, Airbus China Innovation Center, Nature Conservancy, Bo Yu, Vanke Urban Research of China Vanke Co., Ltd., Seeed Studio, ABeam Consulting, as well as more than 10 universities including Shenzhen Polytechnic, Southern University of Science and Technology, Southwest Jiaotong University, Shenzhen Technology University, Guangzhou Academy of Fine Arts, Sichuan Fine Arts Institute, Tsinghua University Shenzhen International Graduate School, Harbin Institute of Technology (Shenzhen). Additionally, there are numerous startups and innovative teams showcasing the most cutting-edge technological applications.
Workshop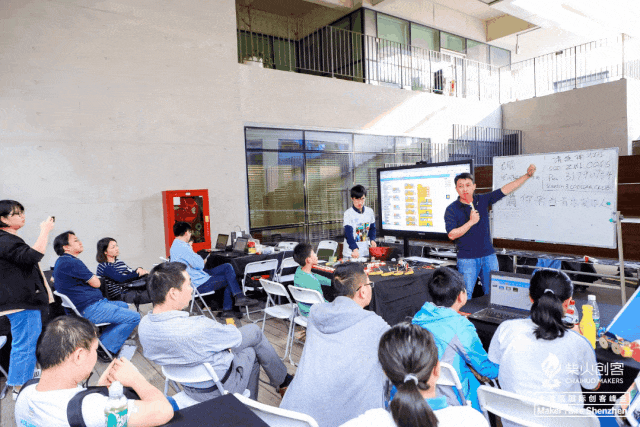 This year, our workshops are categorized into 'Industry Innovation Workshops' and 'Interactive Experience Workshops'. The Industry Innovation Workshops, jointly organized by Chaihuo Maker Space and its parent company Seeed Studio, will feature three topics: 'Digital Transformation 101 Workshop', 'TinyML Workshop', and 'Smart Agriculture Workshop'. Additionally, in collaboration with multiple exhibitors, we're offering interactive workshops where attendees can experience the joy of hands-on activities. These include 'Eco-friendly Storage Bag Design and Production', 'Eco-friendly Material Creative Robot', 'Unpowered Car', 'Toothbrush Robot', 'Badge Welding', and more. These workshops aim to provide an immersive experience in technological innovation, offering insights into the potential applications of innovative technology.
We'll be releasing detailed information and registration links soon. Stay tuned!
Satellite Event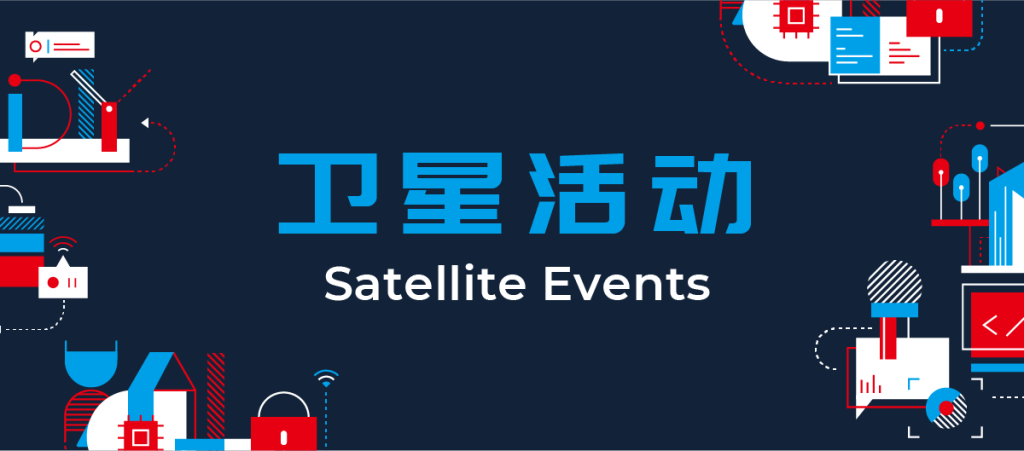 Shenzhen has earned a reputation as a manufacturing hub by excelling in high-tech manufacturing, maintaining a complete production supply chain, and demonstrating exceptional innovation capabilities. This year, we're introducing diverse satellite events, linking global makers within the Greater Bay Area. Through interactive salons, flash talks, and offline gatherings, participants can communicate and collaborate, uncovering new opportunities and challenges in tech innovation.
Stay tuned for more updates on our ongoing series of satellite events!