As many of you may already know, in November, we will have a grand event for makers, engineers, and enterprises: the highly anticipated return of the Maker Faire Shenzhen after a three-year hiatus!
The Maker Faire Shenzhen this year will bring you numerous surprises and celebrations. One of the most significant events should be the official presence of Raspberry Pi as our enabler partner. They will showcase their products and solutions to all Raspberry Pi enthusiasts and community members in China. (Raspberry Pi Booth: A5)
Undoubtedly, this marks a major milestone as it is Raspberry Pi's first visit to Maker Faire Shenzhen, partnering with Seeed Studio and Chaihuo Maker Space and creating a face-to-face discussion opportunity for countless Raspberry Pi lovers in China. 
Maker Faire Shenzhen has been a key event connecting the Chinese local hardware ecosystem with the global tech community. Raspberry Pi's commitment to innovation and excellence aligns with our goal of creating a platform for fostering collaboration and sparking limitless innovation opportunities. Through their participation, we hope to showcase the latest in technological advancements and inspire the makers in attendance to create new solutions for the challenges of our time.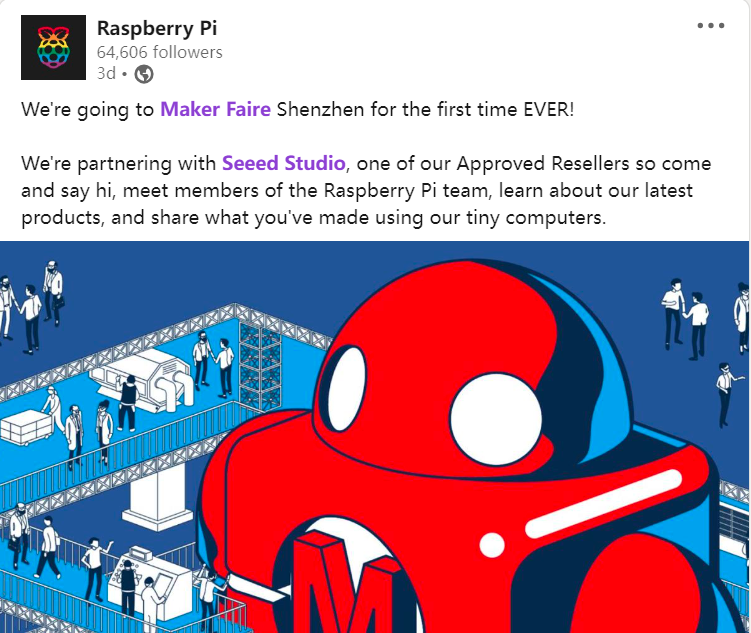 Raspberry Pi LinkedIn
During the Maker Faire event, the Raspberry Pi official team will engage in multiple interactions with the onsite community users.
They will showcase the latest products and solutions of Raspberry Pi at booth A5 on both the 11th and 12th.
Additionally, on the morning of the 11th at 9:15 AM, GMT+8, the Co-founder of Raspberry Pi Foundation, and CEO of Raspberry Pi Ltd, Eben Upton, will have a conversation and discussion with Eric Pan, the CEO of Seeed Studio, during a forum session, which is expected to last approximately one hour.
On the afternoon of the 12th, an offline meetup with Raspberry Pi users will be hosted at Chaihuo Maker Space. During this event, the Raspberry Pi official team will have in-depth interactions and discussions with the attendees present at the venue.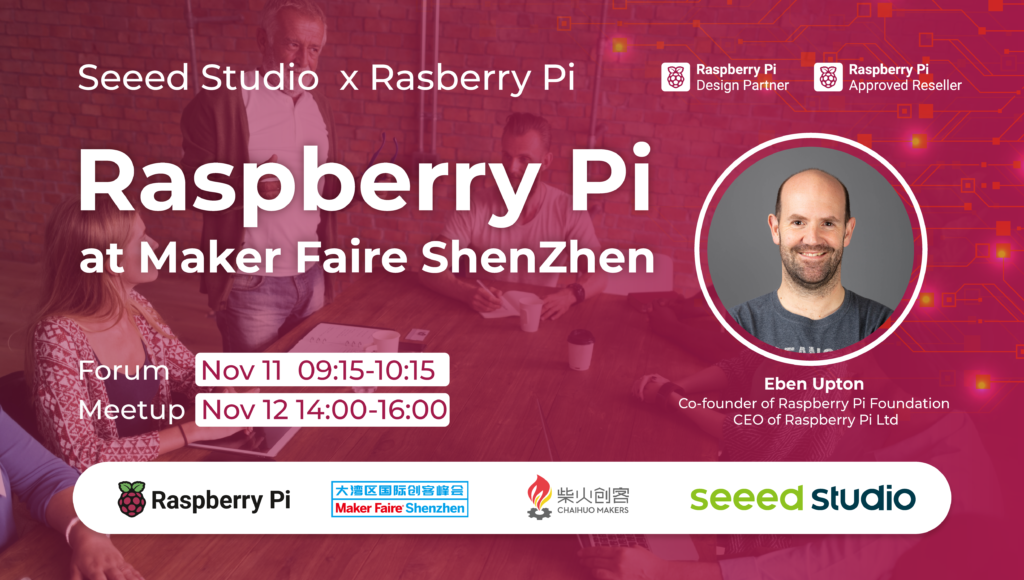 Raspberry Pi Meetup at Maker Faire Shenzhen
Taking advantage of this cool opportunity for Raspberry Pi's official visit to China, we have also organized a meetup specifically for Raspberry Pi enthusiasts attending the Maker Faire in China, partnering with Raspberry Pi and MagPi team!
The Raspberry Pi Meetup is one of the activities of Maker Faire Shenzhen 2023. There will be Raspberry Pi official team and Raspberry Pi enthusiasts gathering to discuss Raspberry Pi projects and possibilities. We cordially extend an invitation to Makers who would like to show off their Raspberry Pi projects or share project ideas to attend this activity. Your projects should b Raspberry Pi-based and can encompass Electronics, Robotics, IoT, AI, Home Automation, and more. Let your creativity thrive with Raspberry Pi as your starting point!
Who might want to attend?
The Shenzhen Raspberry Pi Meetup welcomes individuals of all backgrounds who have a passion for Raspberry Pi. Makers, students, engineers, or enterprises who wish to present their Raspberry Pi projects or share project ideas are encouraged to attend and engage with fellow attendees. Prepare to exhibit your innovations, have your inquiries addressed, and receive the assistance necessary to overcome any obstacles hindering your progress!
Participation requirement
Your projects should be Raspberry Pi-based and can encompass Electronics, Robotics, IoT, AI, Home Automation, and more. Let your creativity thrive with Raspberry Pi as your starting point!
What you'll get during and after the Meetup
Share interesting ideas and engage in technical discussions with other attendees.
Have the opportunity to communicate directly with the Raspberry Pi official team.
Your project will have a chance to be showcased in the dedicated section of MagPi.
Activities at Shenzhen Raspberry Pi Meetup
Showcasing your own Raspberry Pi projects
Engaging with members of the Raspberry Pi official team
Sharing interesting ideas and engaging in technical discussions
Experiencing Raspberry Pi products, including numerous Raspberry Pi products and Seeed's star Raspberry Pi-powered devices
More: A lucky draw for Raspberry Pi 5 and more is also there!
Date and location
Time: Sunday, November 12th, 2023, 2:00 PM-4:00 PM GMT+8
Location: Chaihuo MakerSpace Multifunctional Activity Room, Shenzhen, China
Join us at the Shenzhen Raspberry Pi Meetup to share your projects, ask questions and talk with the Raspberry Pi official team. Don't forget to bring along any of your projects, as this is the perfect opportunity to showcase your work! 
Click here to sign up the meet up!