Countdown to
Maker Faire Shenzhen 2023
1 days to go!
Nov. 11-12
Vanke Design Commune, Shenzhen
4 sessions with different themes at Maker Forum
123 booths with cutting-edge technology
23 Industry innovation and Interactive experience workshops
Nearly 1,000 cool projects
This is the most comprehensive and ultimate guide for Maker Faire Shenzhen
Please keep it!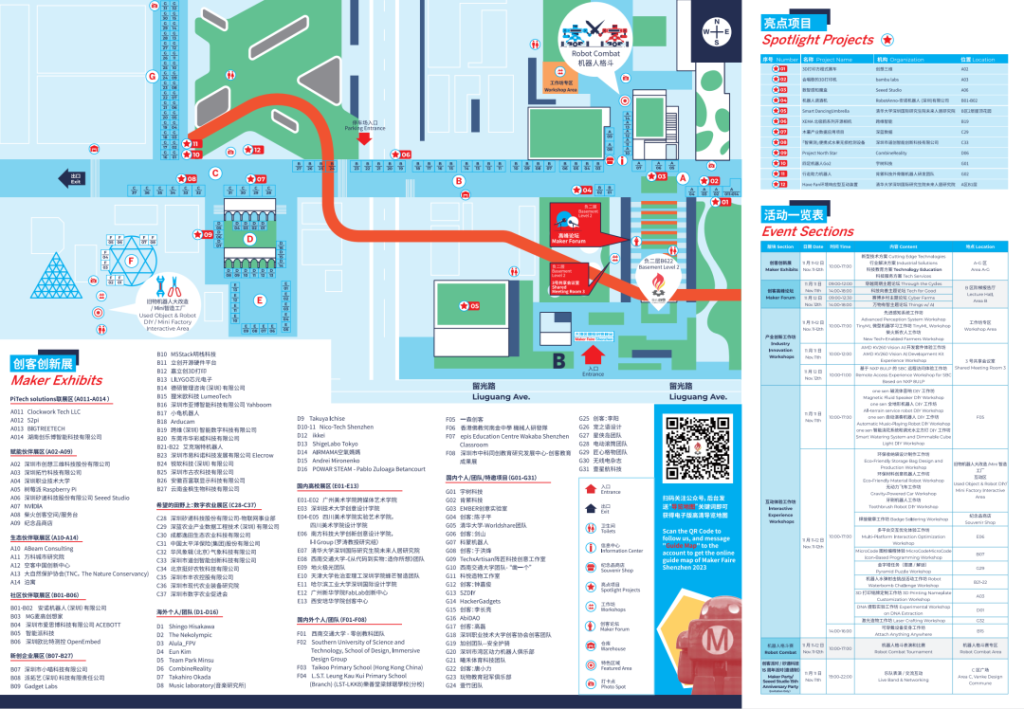 Send the keywords "Guide Map"to「Chaihuo Maker Space」WeChat official account to get an online guide map
What to see and do? BANG!
1. Maker Forum
Time:Nov. 11-12 9:00-18:00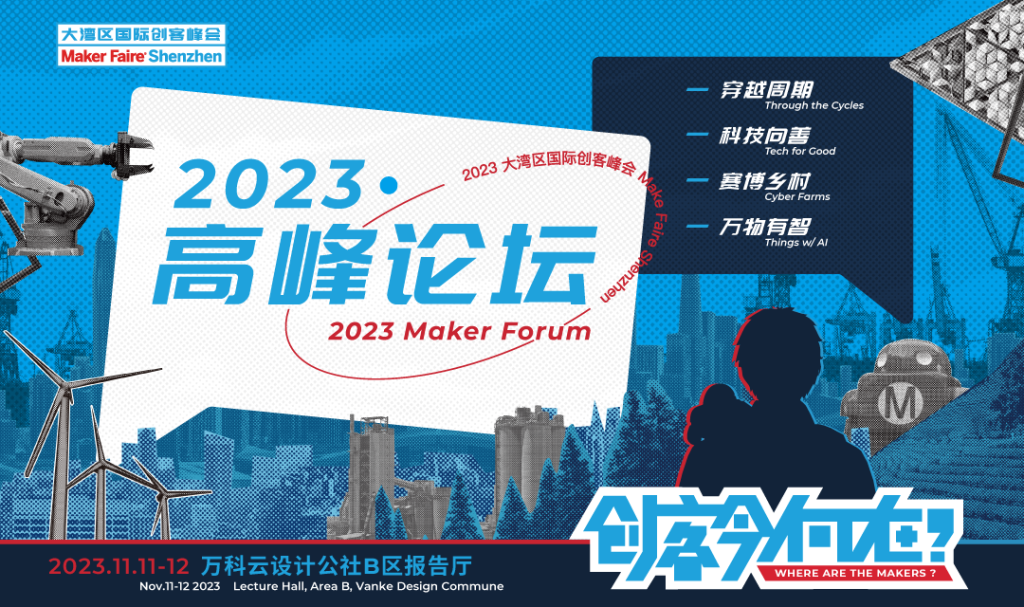 「Through the Cycles」、「Tech for Good」
「Cyber Farms」、「Things w/ AI」
Under the theme "Where Are The Makers," this year's forum at Maker Faire Shenzhen aims to explore the developmental trends within the maker movement, as well as explore the vast potential and opportunities for future pathways and value realization. Furthermore, we also seek to highlight the innovators who continue to drive advancements in various industries. We aim to explore specific scenarios where the innovations have been implemented, examine how the makers navigate the challenges with emerging technologies, and showcase their efforts and stories in promoting digital transformation.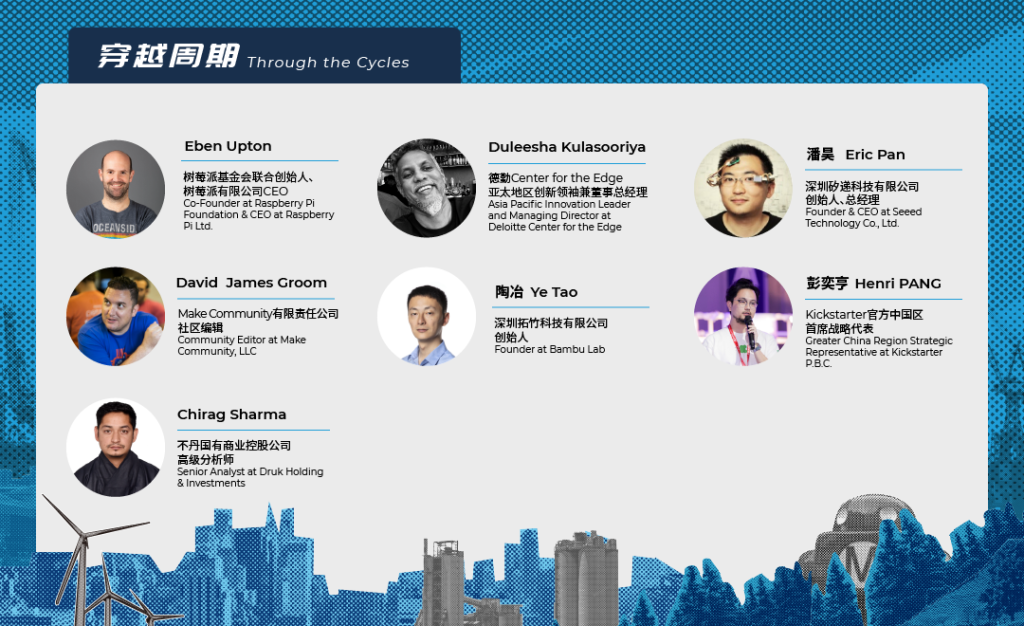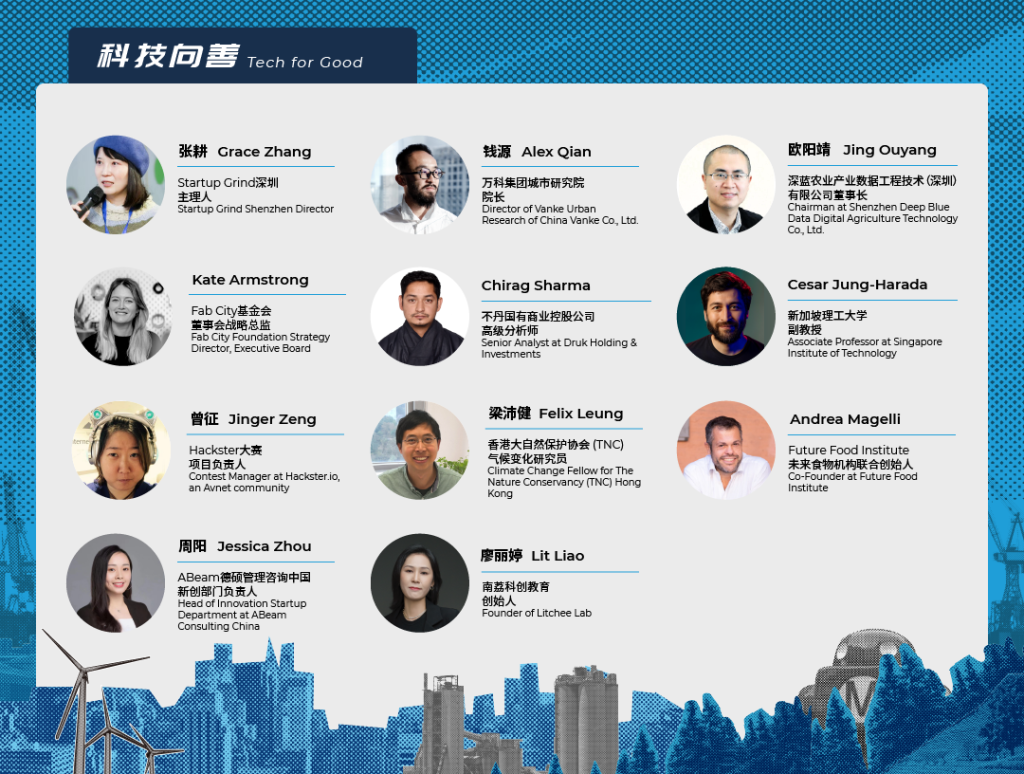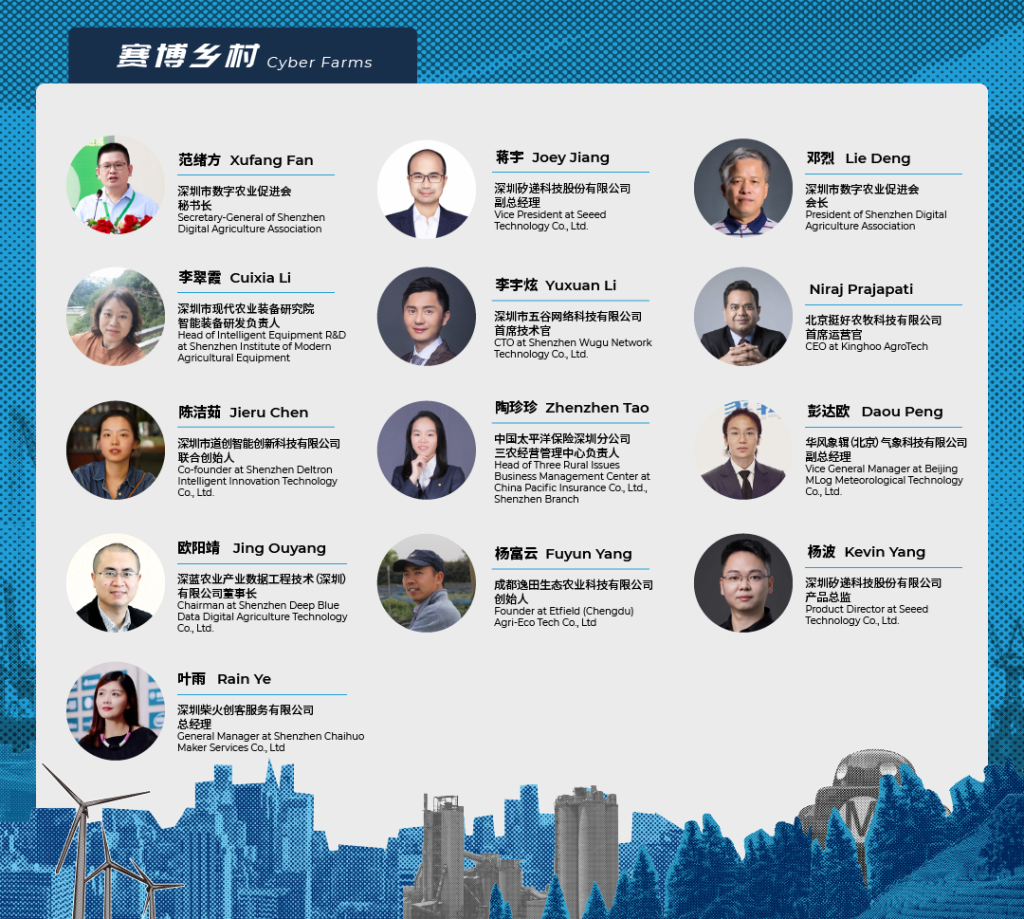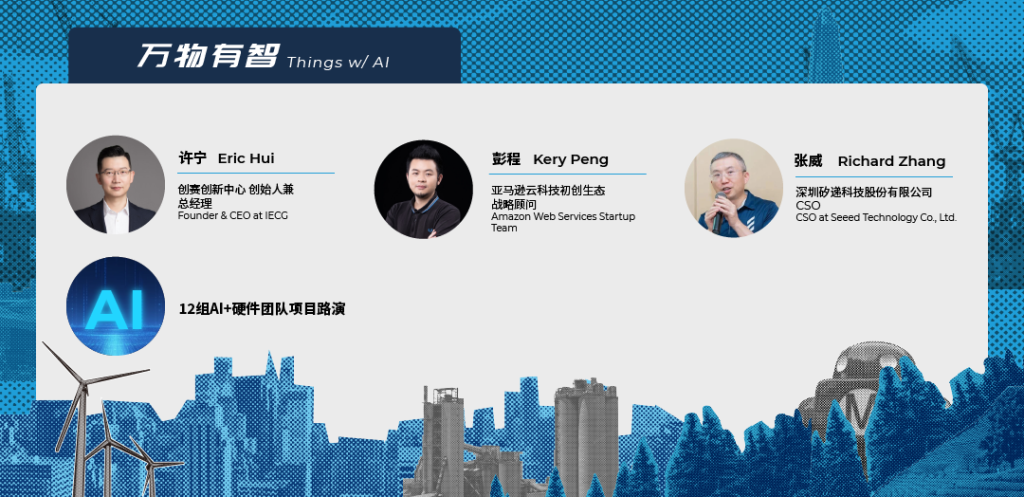 Click here to know more about Maker Forum Agenda
2. Technology Application Exhibition
Time:Nov.11-12 10:00-17:00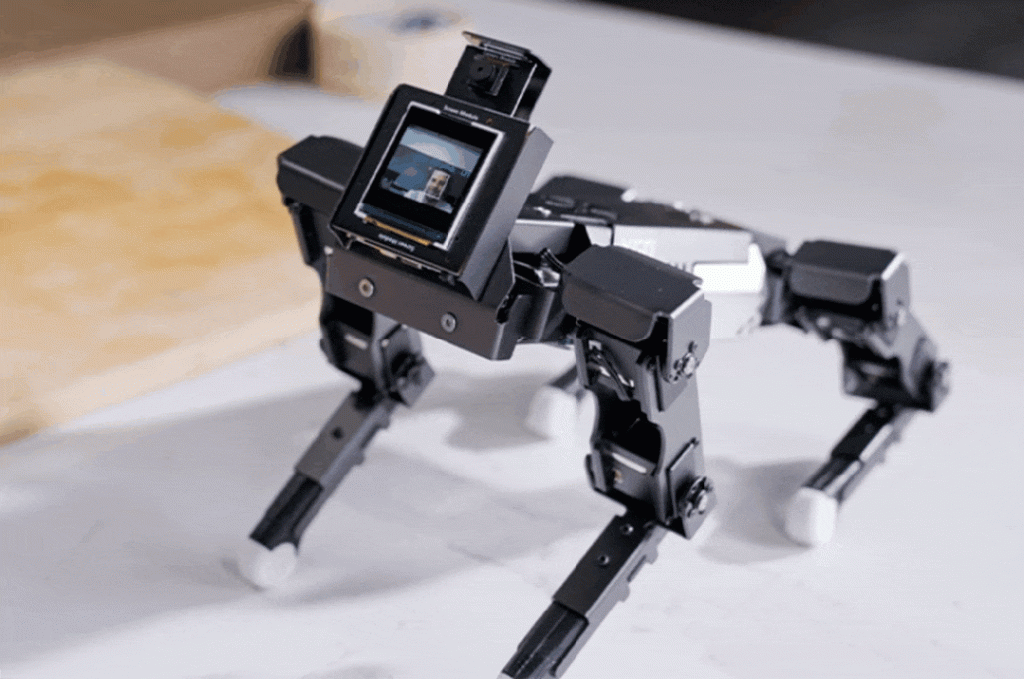 More than 30 countries and regions with 123 booths. From the USA, UK, Sweden, Japan, Spain, India, Poland, Singapore, Korea, Nepal, Indonesia, Hong Kong, Macao and Taiwan, and many cities in China. Bringing cutting-edge technology solutions from around the world: Artificial Intelligence, Machine Learning, Open Source Hardware, wearable devices, robotics, 3D printing, agricultural technology…… We'll be waiting for you to come and explore all of them!
3. Innovation Workshop
Time:Nov.11-12 10:00-17:00
This year, for the first time, we have divided our workshops into two categories: "Industry Innovation Workshops" and "Interactive Experience Workshops". There are 23 different workshops for you to gain professional skills and have fun at the same time!
4. Spotlight Projects
Time:Nov.11-12 10:00-17:00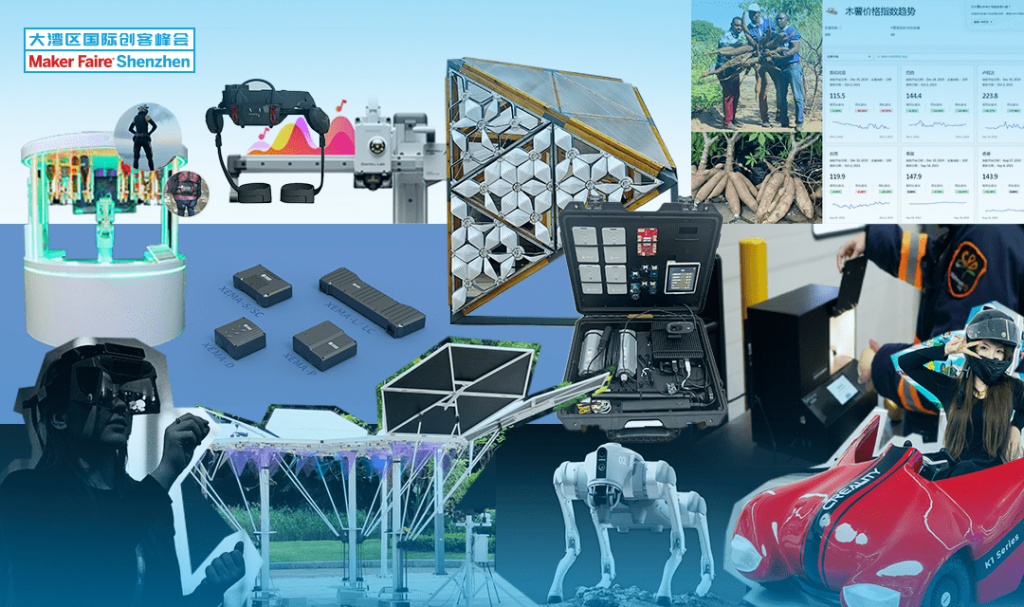 In addition to workshops as a way to get more involved in the event, you can also experience the highlights of Maker Faire Shenzhen 2023: Smart DancingUmbrella, Have Fan environmentally responsive interactive installation, 3D Printed Formula Race Car, Digital Intelligence Magic Box, Robot Bartender, Quadrupedal Robot Go2, and more! In total, there will be 12 spotlight projects for you to explore!You can get the MFSZ23 peripherals by punching the card on site!
5. Photo Spots + MFSZ23 Souvenirs
Time:Nov. 11-12 10:00-17:00
We have set five scenarios for agriculture, industry, energy, research, and education for people to think about how new technology is changing the world and how it can advance your industry. Welcome to take photos!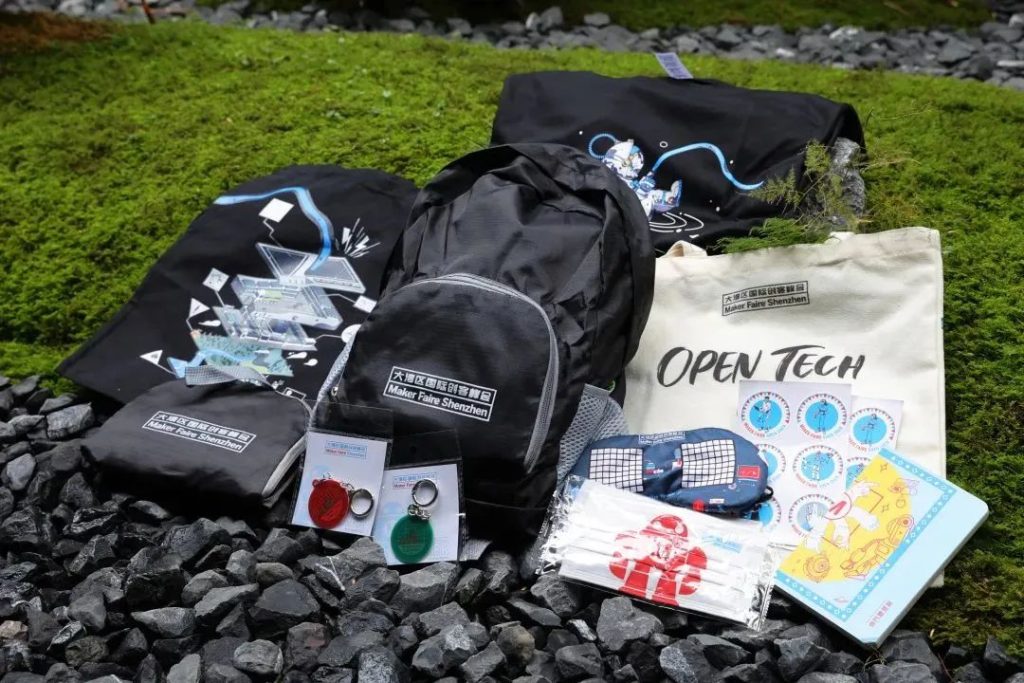 There is also a souvenir shop on site (Booth: A09). We have prepared a variety of limited edition souvenir.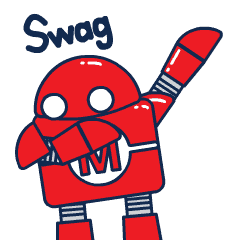 Where
Vanke Design Commune, Nanshan, Shenzhen
When
9:00-18:00 Nov.11-12, 2023
Event Sections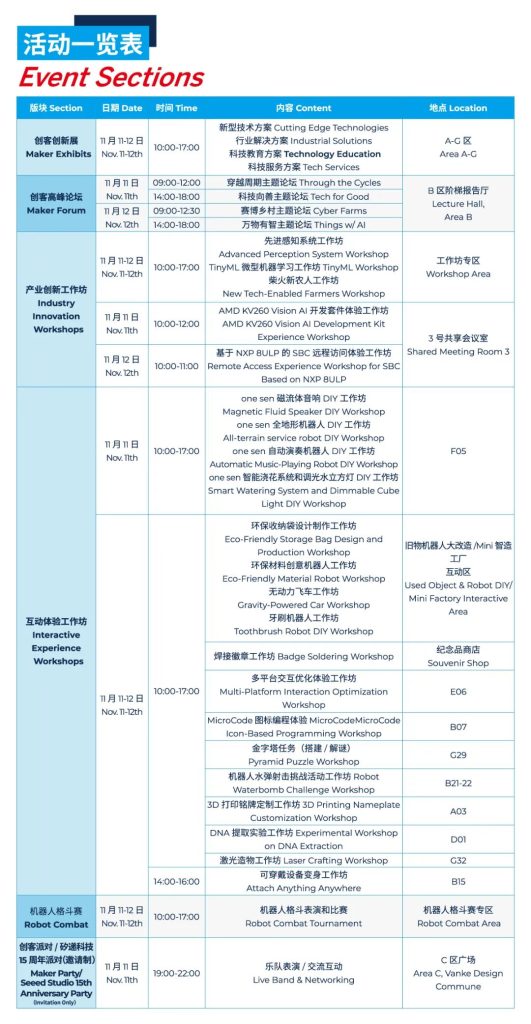 For professional visitors who want to get the Event Booklet, click here.
For who want to the Maker Forum, click here.
To register for the different sessions of the Innovation Workshop, click here.
Be an Ecovisitor!
The event venue offers a limited number of parking lots, and we encourage you to visit us with eco-friendly transportation options! The nearby subway stations and bus stations are listed as follows:
Metro: Exit A, Liuxiandong Metro Station(Line5)
Bus: Zhongxing Talent Apartment East Bus Station
Vanke Cloud City Bus Terminal
On-site Photos
There will be a mystery photographer to capture the moments of each participant.If you see the photographer, you can ask him/her to take photos for you.After taking photos, remember to send the keyword "photos"to 「Chaihuo Maker Space」official WeChat account to find the smile you left behind at the scene.
Food
There are many restaurants and cafes in the venue, and there is also a Vanke shopping mall nearby where you can dine