Project: GlassOuse and G-Switch Series: Assistive Device and Adapted Switches for Disabled People
GlassOuse is a hybrid glass-mouse worn as regular glasses to use technology hands-free. Designed for disabled people with limited movement abilities, GlassOuse can connect computers, mobile phones, tablets and smart TVs via Bluetooth. The initial version of GlassOuse, V1.1, ran a successful Indiegogo campaign and with its game-changing "bite-click" (a switch to allow the user doing the mouse clicks), GlassOuse enabled many people in need to use tech gadgets hassle-free while reducing the effects of their disabilities. The version V1.1 won Blackwood Design Award for the Best Design in 2016.
With an ongoing development, in 2018 GlassOuse was upgraded to a newer version, V1.2 with a bunch of new features and the evolution of the device created another game-changer line called G-Switch Series – a set of adapted switches for different patient groups with different disabilities to enable them to perform clicking actions with different parts of the body. Currently G-Switch Series boosts four switch options in its inventory as Bite Switch, Puff Switch, Finger Switch and Foot Switch.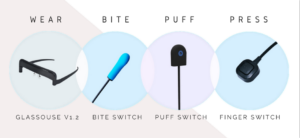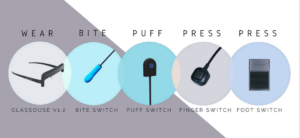 GlassOuse V1.2
Bite Switch
Puff Switch
Finger Switch
Foot Switch
You can get more info
here
.