Maker:  Her name is Kim TaeHyun and her project is "Smart Farm". By using various sensors, she wants to maintain appropriate environment and blend agriculture and IoT for future use.
Project:
Idea
Temperature & Humidity Control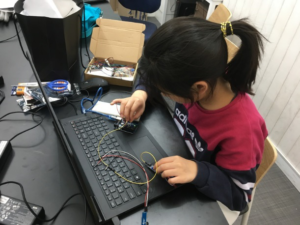 Humidity: In order to trigger Smart Farm to water or dry (utilizing propeller), humidity sensor will measure humidity in air and soil. If any one of those two does not meet the appropriate humidity, Smart farm will activate sprinkler or propeller.

Photo Synthetic
Use LED to artificially support photosynthesis of plants

Oxygen Controller
Build a route that connects inside and outside of the Smart Farm and make a cover at one end. Adding a weight on it will allow the cover to open and close automatically when carbon dioxide rate is too high by using a propeller.

Part Lists
Control Part
  – LED(500mm 12mm)
   – Temperature and humidity sensor
  – Soil moisture sensor
  – Arduino Leonardo
  – Power supply: 1.5V Battery * 8

Housing Part
 – Bold Wire & Wrapping vinyl
 – Valve
 – hose
 – Servo Motor: To Control Water Valve
 – Water Tank: Like PET
 – Propeller Motor

Considering
 – CO2 measurement sensor
 – Heat Pipe – Bluetooth: To Upload sensor data.
Composition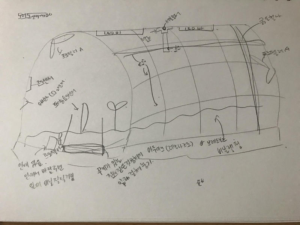 Module Test
1. DHT22 : Temperature, humidity snesor
2. Soil Moisture Sensor : Soil humidity sensor
3. DCMotorDrive : Atmosphere humidity control motor
4. Water Supply Motor : Water supply control motor
5. LED : Lightning for plants

Programming
1. Sensing: Array
2. Control Motor :  Activates when the requirements are met to supply water or control atmosphere
Function

Control
  – Atmosphere humidity
  – Soil humidity
  – lighting

Considering
  – Display
  – send data to Server
  – Web Design
  – CO2 measurement  
Website: http://flowedu.net/