Maker: His name is Justin Hur, and the name of his project is "Glue Mood". He want to make artistic mood using simple circuit composition and glue.
Project:
Idea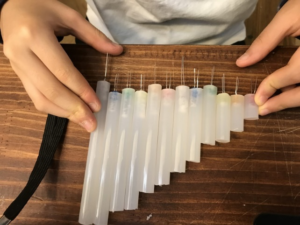 He will put glue sticks on an MDF board. He will make a hole at the bottom and place a LED lighting in it. To turn on/off the work, he will add a lever to it.
The reason he came up with this idea: When he saw a pillar lighting at a park he thought that it is similar with a glue stick.

Step 1. Choosing Bars(Glue sticks(bigger one or smaller one) or plastic stick)
-> He chose big Gluestick. Because 1. plastic stick is too transparent 2. smaller one is hard to make a hole at the bottom and put a LED in it.

 Step 2. Placing Glue stick
 -> In order of the length.
     And they will be place in curved form.

Step 3. Organizing a circuit
Parts List
– glue sticks(12)
 – LED lighting(12)
 – MDF board(20*20)(1)
 – wire(1) 
 – lever(1)
– CR2032 or 5V Battery(with R220)
Composition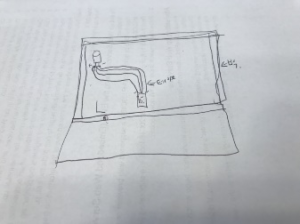 MDF: Board
Glue Stick: Glue MDF board in order of the length and they will be placed in a curved shape
LED Lighting: the colors of each LED lighting would be set like the color of the rainbow(like red-orange-yellow…..)
Battery: To operate LED Lighting
Function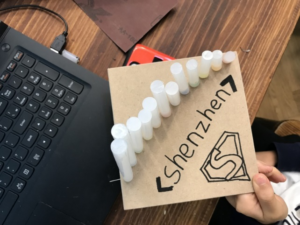 – LED : compose Simple LED Circuit, make Colorful Mood.
   – Glue : Using glue gun's solid pilar part as house 

 – Power Supply 
    – Toggle SW : Power on/off Switch
    – Battery : multiple CR2032 or One 5V Supply Battery.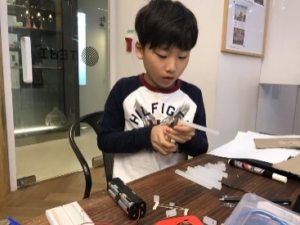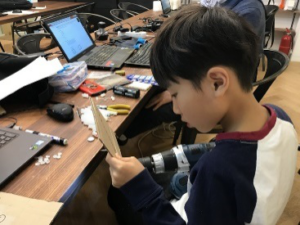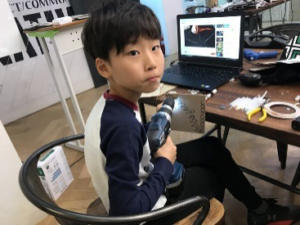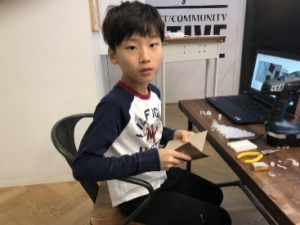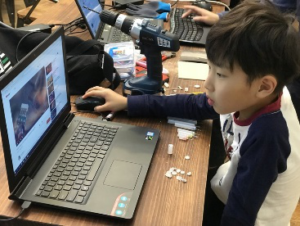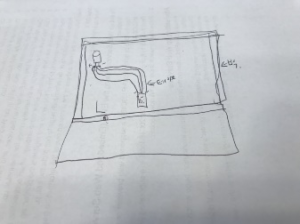 Website: http://flowedu.net/