Makers:   His name is Junseo and he is from South Korea.
He is participating this Makerfaire because he is interested in making, designing, IT and technology.
His project's name is 'Mini Game Machine' because he enjoys playing game to kill time.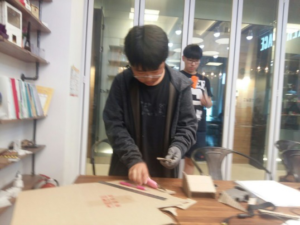 Prject:
Idea
He like games, so he wanted to make his own gaming machine. He chose ping-pong, it is among the classic games that can be made with Arduino. The mini game machine which called a ping-pong game was made using the Arduino Uno board, a dot matrix, and the variable resistor.
When the power is supplied, a ball and plate are created in the dot matrix, and when the variable resistance is turned, the plate moves and the ball is thrown out. The shape of the game machine that can be seen in the game room is small. If you make it this way, it will be smaller and more fun to play, so he chose this shape.
Part Lists
 – Arduino Uno (Nano would have been better)
 – Breadboard
 – Dot Matrix
 – Variable Resistor
 – Battery Holder
 – Switch
 – MDF
Future Feature.
Buzzer
Composition
CAD Drawing: MDF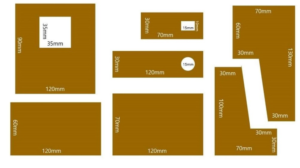 DotMatrix: Display the feeds to play games
Variable Register : To Control bar movement in game
Battery Holder&Switch: Used to operate the game
Arduino Uno : He had choice between nano and uno, but with the size of gaming device, he thought uno would be the proper choice.
Function
About Game
  – Ping-Pong : As known as
About HardWare
  – Display : DotMatrix
  – Control : Using PotentialMeter to control Bar.
  – Buzzer : Sound Effect.
Website: http://flowedu.net/