MAKER: Daeun Jun (Eunny)
I am Da-eun, Jen or Eunny. (Eunny is my nickname in English)
I am a personal Maker and freelancer & teacher in South Korea. I am teaching 3D modeling & 3D printing and running YouTube channels (KOR: https://goo.gl/9RMyEE, ENG: http://www.youtube.com/c/Eunny  )
PROJECT: Simple Animals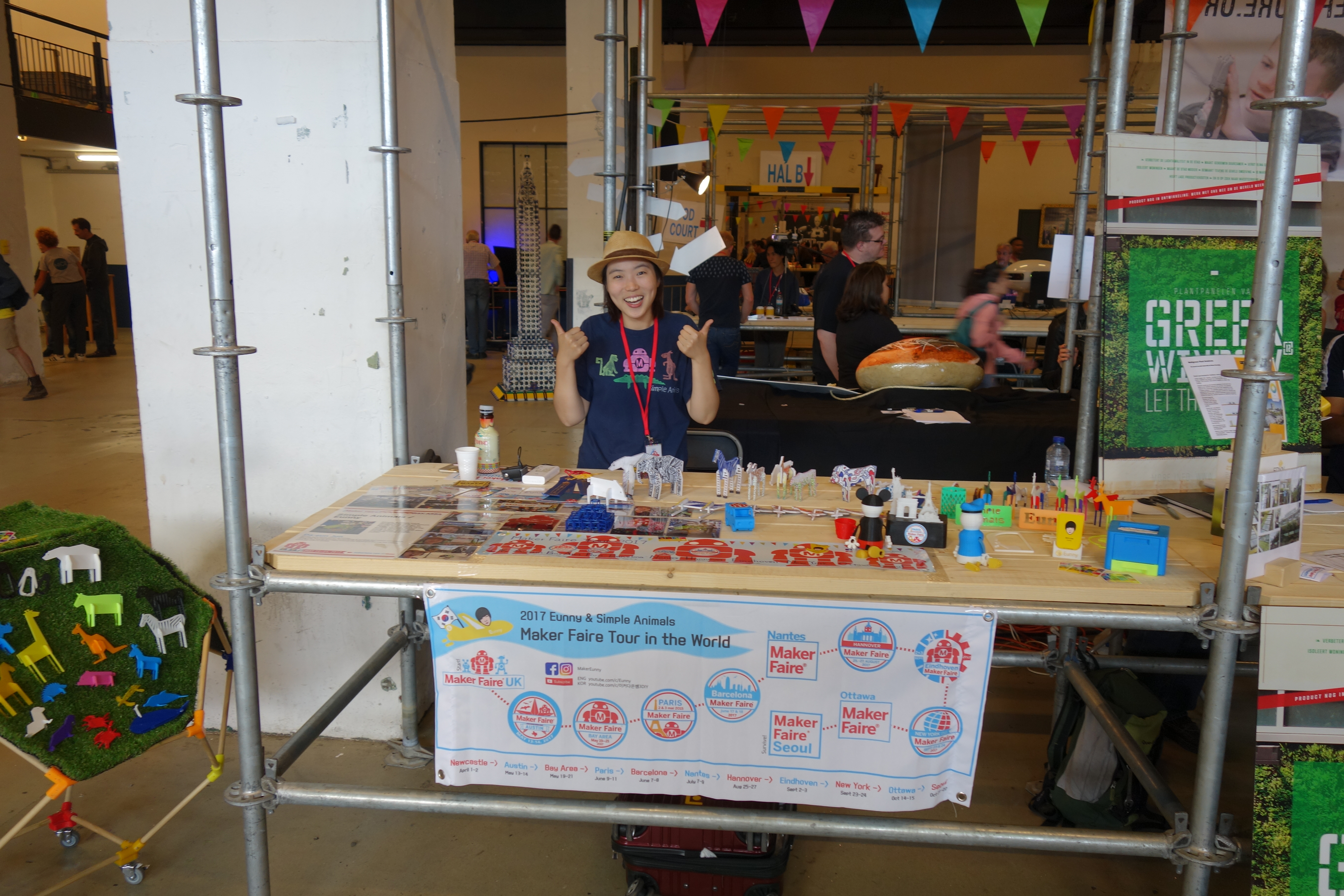 When I started 3D printing as my hobby in 2014, the speed was too slow. I wanted to get the output fast, so, I designed the flat objects and connect to each other. Simple animals were designed by only minimum straight line in order to appear their characters. Even If I printed all animals at the same color, people recognize the character what is this animal. This is my design goal of design for Simple Animals.
It is a very simple idea. When I published the animals in online (http://www.thingiverse.com/Eunny/designs), many people loved my animals. I continually keep making animals to express all kind of animals.
PROJECT: Eunny & Simple Animals Maker Faire Tour in the World
I love Maker Faire. I have participated in Maker Faire Seoul for 3 years. And I went to see the Maker Faire in San Francisco as a visitor in 2016.
I wanted to have experienced another Maker Faire and meet various makers. Therefore, I had a plan to visit 11 Maker Faires for 7 months in this year especially Europe and USA. (UK – Austin – Bay Area – Paris – Barcelona – Nantes – Hannover – Eindhoven – New York – Pittsburgh- Seoul)
I went some maker spaces, museums and sightseeing in the area while there was no Maker fair. I traveled alone for 7 months on my budget.
WEBSITE: 
https://www.facebook.com/MakerEunny/