Maker Faire Shenzhen 2019
To the Heart of Community, to the Cluster of Industry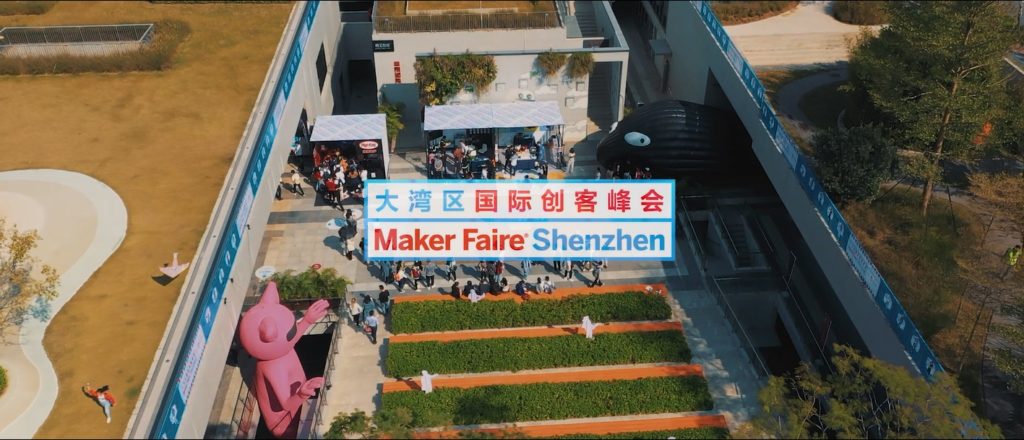 In 2012, we introduced Maker Faire to China, holding it for the first time in Shenzhen. Here is a summary of our journey since then:
2012: A pioneer of China's maker culture, Chaihuo Makerspace organised the first Maker Faire Shenzhen to pioneer and build a platform to connect China and global technology, promoting exchanges between the two;
2015-2018: We hosted the Maker Faire Shenzhen as a major sector of Shenzhen Maker Week Conference/National Mass Entrepreneurship and Innovation Week, attracting nearly 1,000 Maker teams from 47 countries around the world to showcase and exchange, continuing to expand the influence of the event;
2019: Maker Faire Shenzhen 2019 focused on creating a platform for the transformation of scientific and technological achievements and industrial innovation.
After a month of collating pictures and videos, we now present to you a gift from the Maker Faire Shenzhen Committee: the MFSZ19 Recap Video! Watch the video now to see if you are in it!

In addition to the exciting recap video, we have also collated all the relevant data for Maker Faire Shenzhen 2019 just for you! Scroll down!
Event duration: 2 days
 Attracted more than 30,000 visitors
50+  groups of professionals as visitors
An audience of 1000+ professionals for the Maker Forum
(P.s. For a detailed version of the activity summary report, click here!)

1. Maker Booths
Total number of booths: 108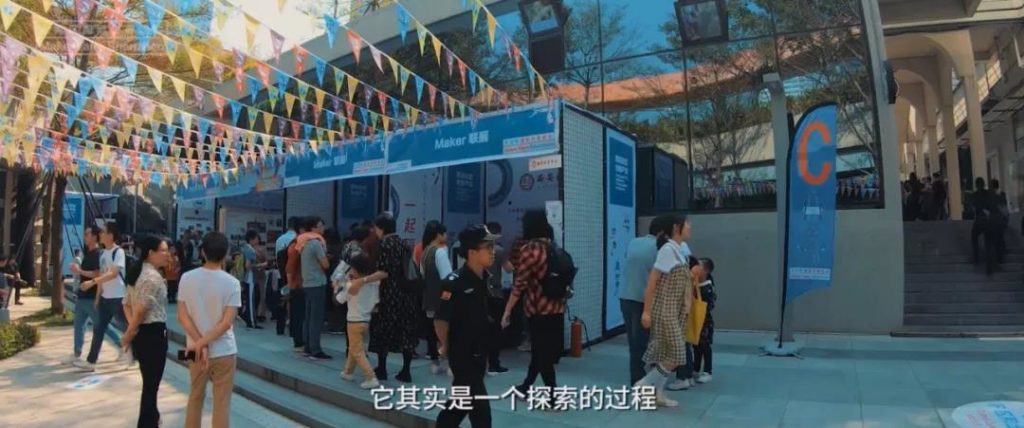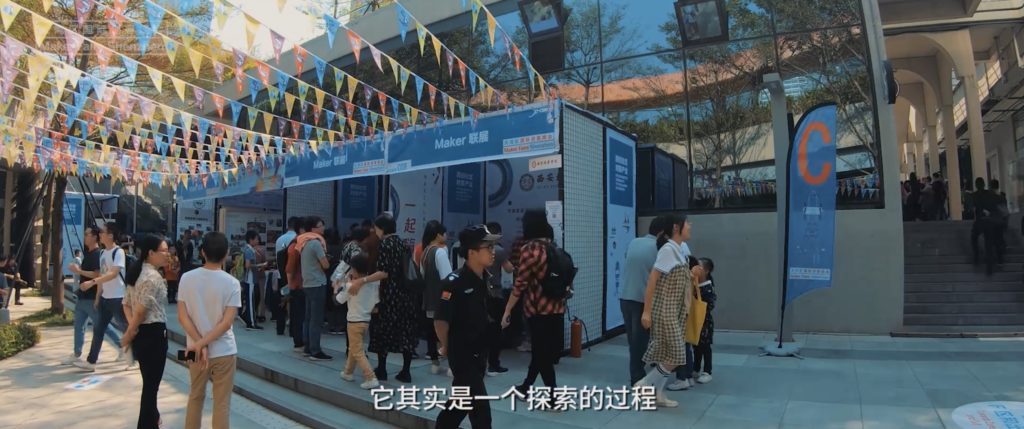 This year, our international exhibitors come from 9 different countries and regions, including Australia, South Korea, Nepal, Japan, Thailand, Singapore, India, the United Kingdom, and Hong Kong, China. There are a total of 36 groups of international exhibitors: 19 from Japan, 8 from South Korea, 2 from Thailand, 2 from Hong Kong, and 1 from Australia, Nepal, Singapore, India, and the United Kingdom.

GOOD NEWS!!!
Want to get a 5% discount for a booth at Maker Faire Shenzhen 2020? Email us now via business@chaihuo.org before 31 December 2019 now! 

2.Maker Forum
The Maker Forum attracted more than 1000+ professionals over 2 days.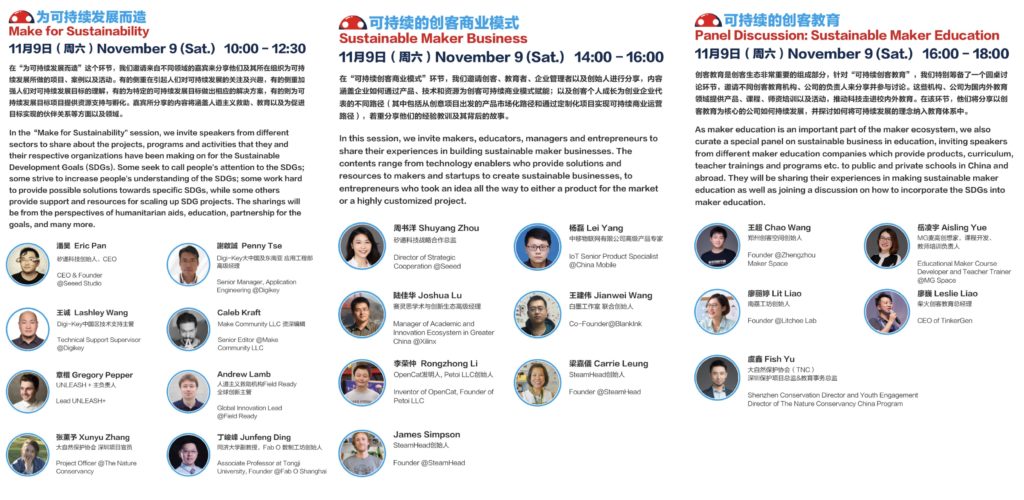 In 2019, there are 20 speakers in total for the Maker Forum. This year, 65% of the speakers come from Mainland China, while the other 35% come from other regions. Gender wise, there were 5 female speakers, which accounts for 25% of the speakers.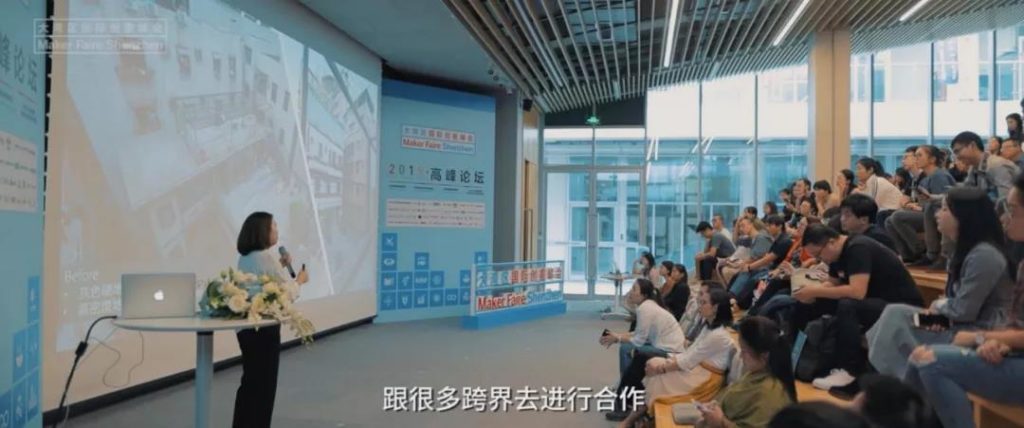 This year, there are several ways to sign up for the Forum, some of them are: Jinshuju, Huodongxing, Eventbrite and Meetup. The total number of people who registered is 1059 and they come from sectors/industries such as education, electronics, real estate and manufacturing, with education and electronics taking up the highest composition of visitors(29% for education and 21% for electronics).
For those of you who missed the Maker Forum, we have great news for you! We have uploaded all the videos of the Maker Forum to our Youtube Channel: Chaihuo Maker Space. Scan the QR code below to watch them now!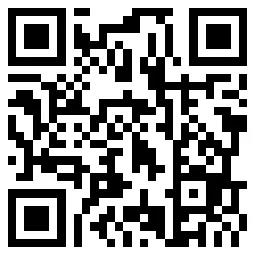 3.Project Spotlights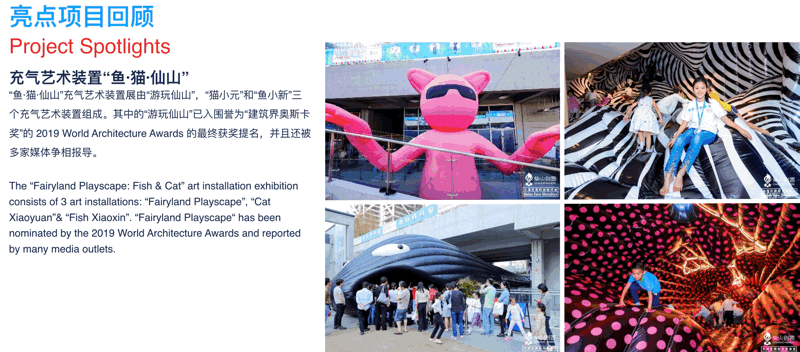 Workshops
Nearly 25 workshops with 15 themes in 2 days


Maker Party
Number of Participants: 150+ people
Participants: Exhibitors/makers, speakers for the Maker Forum and our community partners.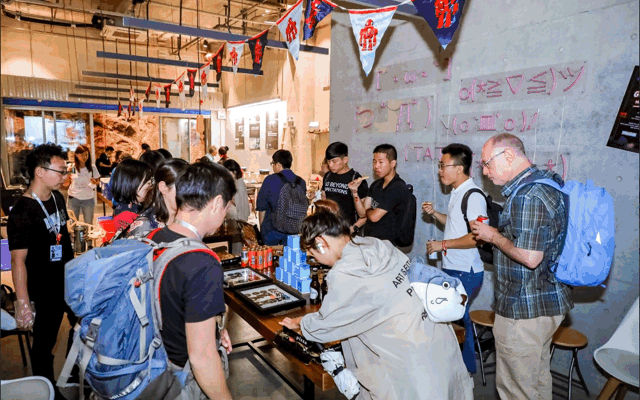 Media Exposure
Media: 30+ media outlets turned up for Maker Faire Shenzhen 2019 and posted nearly 50 articles.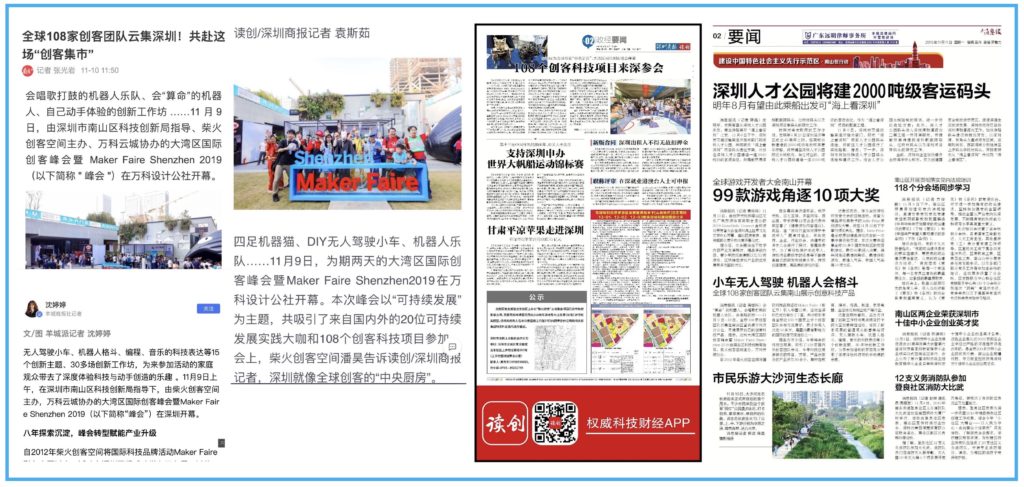 Wechat Official Account: The first article for Maker Faire Shenzhen 2019 was published on 30 April 2019 and we have published 55 articles in total since then. We achieved a viewership count of 84,133 and reached 38,221 people.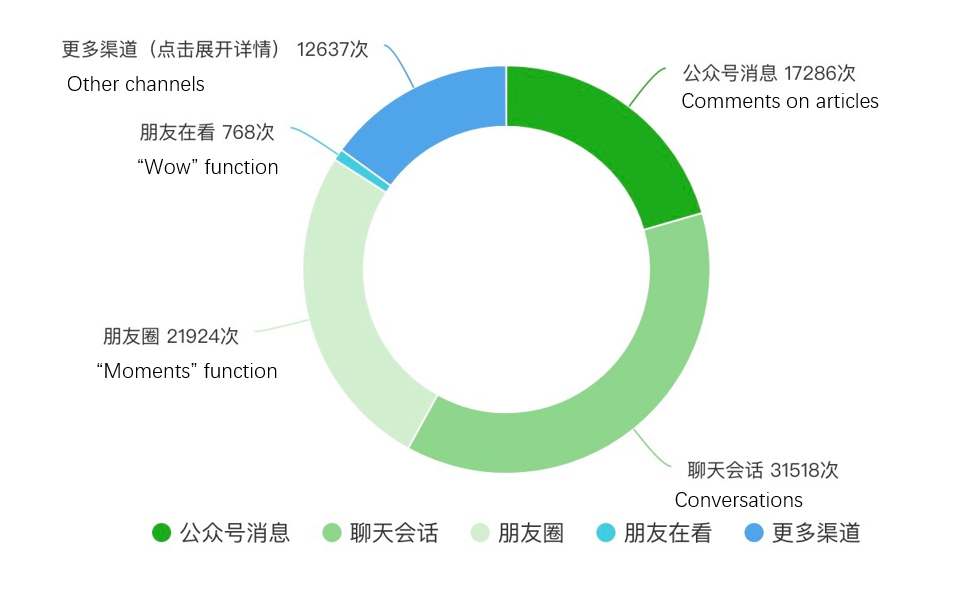 Other Online Publicity: Exclusive event sign-up platform Huodongxing's cover page for 8 days, Propagation on Shenzhenware's platforms for 10 days, propagation by our community partners, multiple SNS such as Facebook, Twitter and Weibo.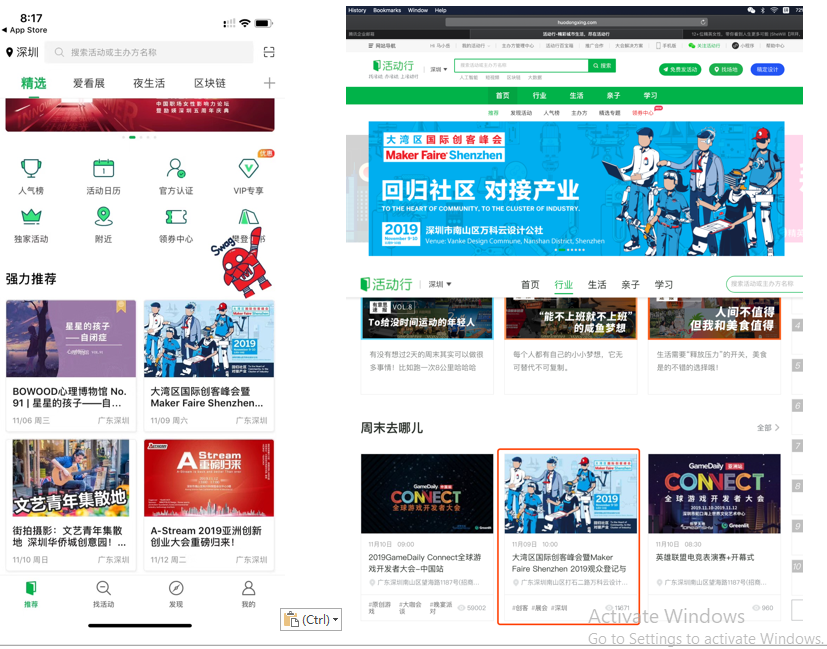 Offline Publicity: Nearly 60 posters at Vanke Yunchuang, Vanke Yuncheng and Vanke Design Commune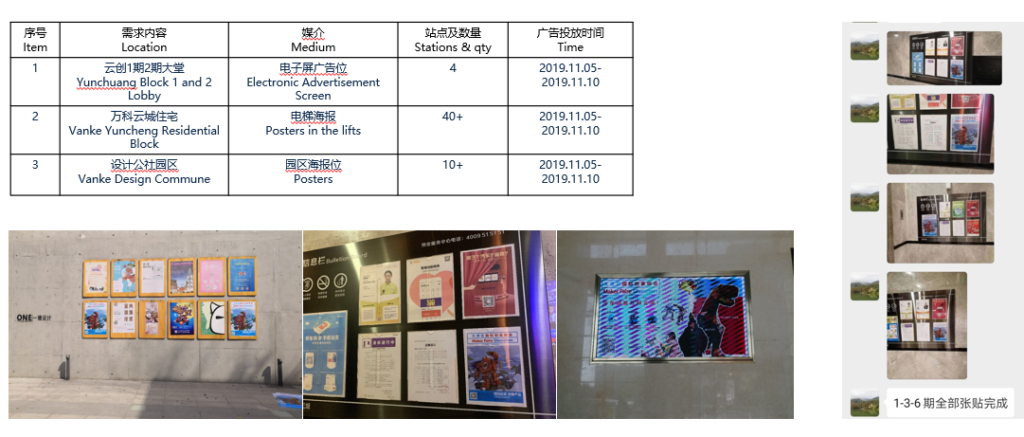 Photo live-streaming viewership count reached 23825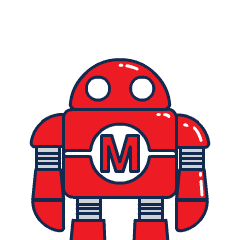 All in all, we would like to express our heartfelt gratitude to all our partners and visitors for the huge support this year! See you in 2020!