Maker:  His name is Ray Kim. He is 14 years old and comes from South Korea. He became interested in the Makerfaire because it was new for him. He wanted to use what he has learned before and apply them. He chose Bluetooth module and Neo pixel because these were the most interesting things in his maker experiences. By the way, he thought using only lightening could be boring, so he added beep speaker.
Project: 
Bluetooth Music Mood
Idea
Index
1 Step: Modeling
2 Step: Creating an App Inventor App Inventory
3 Step: After playing smart light cord, weaving music playback
4 Step: Hardware assembly (design)
5 Step: Last exercise

By utilizing a Bluetooth function of a smartphone, express your mood accordingly: change light, change music and etc. The device will apply mood by using neo-pixel for light and piezo effect for music. Bluetooth Music Mood light's shape is cylinder and it has overstory-understory. Two holes are the path of parts and wire, for easy modification. In upper side, put Neo pixels around on inner wall two times. The framework is white and thin, so it can be seen subtle light. Also, it has enough interior space for inner parts such as speaker, board, wire. This will allow the buttons of device to communicate data through bluetooth module. By pressing the appropriate button, it will set the color and music and display of color and patterns will be decided by BPM.
Part Lists
1. Neo-pixel
2. HC-06 slave
3. Mini breadboard
4. Arduino
5. Jumper line
6. beep speaker
7. 3D printer for printing framework
Composition

Express

  – Neo-Pixel : Express various moods according to input
  – Beep Spaker : Express Various mood Sound Tracks

Control
  – Arduino Uno : HardWare Controller
  – HC-06 : Communicate with Mobile App(by App Inventor)
Function
Mobile App(Android)
 – Select mood
     Mood
 – Communication : Bluetooth with Paring Mobile App
  – Express : 
    – LED(NeoPixel)
    – Playing Sound Track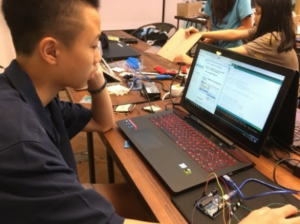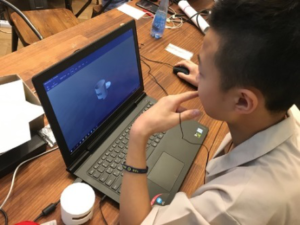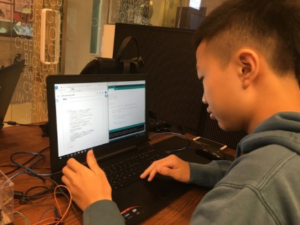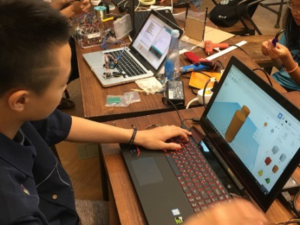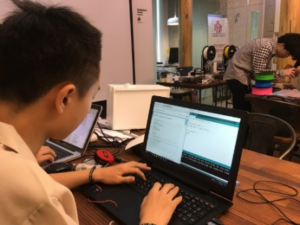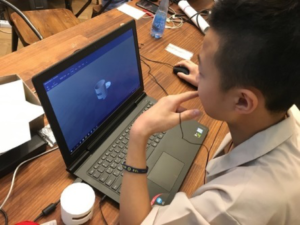 Website: http://flowedu.net/